Product Information Management
The Future of Sales Processes: CPQ and PIM in Focus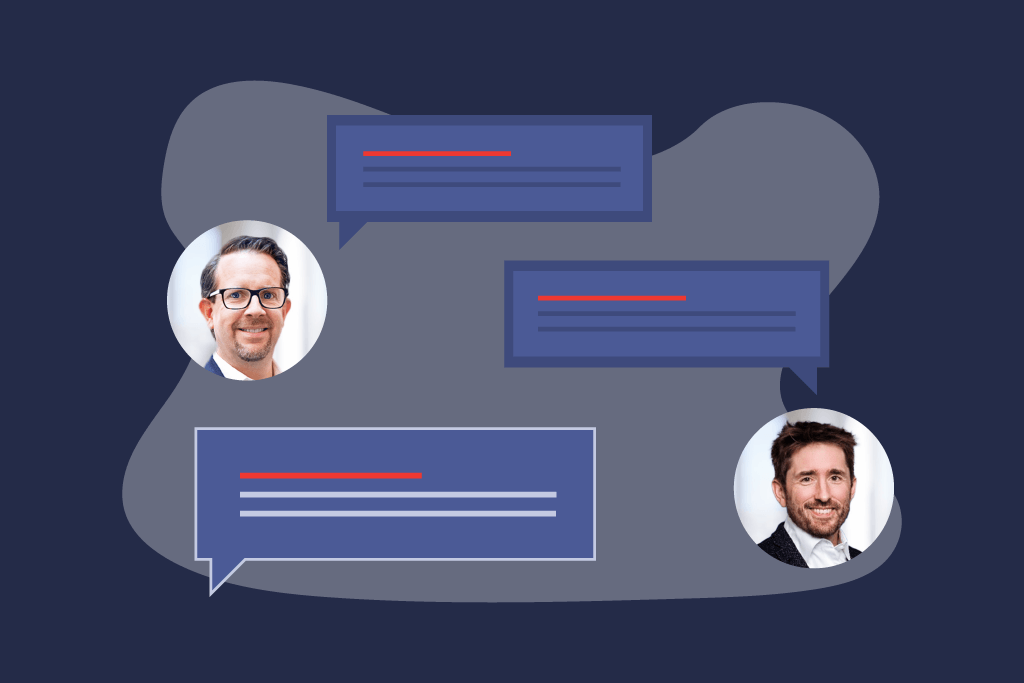 Expert Interview with Markus Pichler and Achim Beckmann
Digitization has changed the way companies present and sell their products and services. Nowadays, customers expect personalized and quick solutions which match their needs and preferences. To keep up with this development, companies must optimize their sales processes and manage their product information efficiently. To this end, two software solutions play an important role: CPQ and PIM. CPQ stands for Configure, Price, Quote and makes it possible to automatically generate individualized offers and offer variants. PIM stands for Product Information Management featuring centralized management and automated distribution of product data and product content across all channels and markets.
In this interview, we've asked two experts from this field: Markus Pichler, CEO of eggheads, and Achim Beckmann, Managing Director at In Mind Cloud, the renowned software provider for digital sales platforms and CPQ which specializes in the complex requirements of sales. The two experts tell us what challenges companies active in digital sales encounter and how the combination of PIM and CPQ can help in mastering them.
Let's Start with the Fundamentals: What is CPQ?
Achim Beckmann:
CPQ is the abbreviation for Configure, Price, Quote. These are the three steps a sales employee has to go through in order to sell an individual product to a customer. First, the product is to be configured, i.e. adjusted to the customer's wishes. Then, the price is to be calculated according to a myriad of factors. Lastly, an offer is to be created and approved which satisfies professional standards and is free of error. This whole process can be automated with CPQ. CPQ is more than a product configurator. It's an end-to-end process that lets your sales team operate more efficiently and flexibly. With CPQ, customized products can be offered and prepared in a much faster manner.
For which Sectors is CPQ particularly interesting?
Achim Beckmann:
In Mind Cloud focuses on the manufacturing industry which offers individualized products with a high degree of standardization. This is because individualized products are in highest demand here. Customers require tailor-made machine configurations most of the time – lot size 1. Manufacturers are to put together such "unique items" out of standardized components. In this context, CPQ can support two crucial processes relevant to the manufacturing industry:
CTO – Configure to Order: This is about pre-defined data models. To illustrate what this is about, let's take an automobile configurator as an example. Even though cars are complex products, anybody can configure and order one today without the need to test-drive it. To this end, rules are defined such as the M package which opts for sport seats instead of comfort seats. Finally, the price is calculated.
ETO – Engineer to Order: This, in contrast, is about individual product requests. Let's say a manufacturer for medical technology needs a plastic housing for their product. Accordingly, they will refer to an expert for plastic injection molding. The expert receives a CAD drawing and technical details on material, durability, etc. Then, the expert carries out a price calculation, usually on the basis of cost rates. Usually, the pricing is based on Cost+.
In order to reconcile standardization with individualization, CTO and ETO must be combined.
Where is the Market Heading and what Trends are Emerging?
Achim Beckmann:
The market is developing in several directions. Based on our professional experience, however, we can identify four trends: specialization, consolidation, switching to the Cloud, as well as the integration of CPQ with CRM, E-Commerce, and ERP systems.
Can You Tell Us More About Current Trends on the Markets?
Achim Beckmann:
There are four big trends we are observing. The first is specialization. Some CPQ providers focus on specific aspects of the CPQ process, such as the Product Life Cycle. We from In Mind Cloud, however, defend the standpoint that a continuous end-to-end process is decisive, in particular for medium-sized enterprises in the manufacturing industry.
The second trend is consolidation. We are observing how known CPQ providers are taken over by larger corporations. This is an indicator that demand for CPQ solutions is on the rise and that providers must prepare themselves to include more process depth.
Cloud is the third trend on the market. Based on our experience, more and more companies are asking for cloud solutions even in the CPQ field. We from In Mind Cloud made our early beginnings directly with the Cloud and, so, we have a lot of experience and a knowledge edge. Over the last months, we have rebuilt our platform with a hyperscale architecture in order to provide our customers with more flexibility and performance. Additionally, we have expanded our platform with a CRM and many commerce functions. As we have noticed, it is not only the case that our customers' sales employees are required to make configurations but also that, even in the context of customer experience, it is imperative to build as many channels to end customers as possible. To this end, our standard product can now process both simple and complex configurations, requests of configured products for interested parties, customers, and partners, as well as spare parts orders through our platform.
The fourth trend is the integration of CPQ with other systems such as CRM, E-Commerce, and ERP. We have expanded our platform by CRM and commerce functions which are continuous with existing systems such as SAP, Salesforce, and Microsoft. We call this a digital sales platform: A central platform for E-Commerce, CPQ, and CRM with SAP and ERP integration.
What Challenges do Companies Face that CPQ can Solve?
Achim Beckmann:
In the manufacturing industry, we commonly take notice of the following challenges: First, sales of complex products require in-depth expert knowledge. Second, the offer process is usually time-consuming and costly – in particular, failure costs are a prominent topic. Third, the interaction between interested parties, sales, and construction can be bumpy. Fourth, Guided Selling plays a crucial role – the optimal selection of machines and equipment and their scaling is decisive. Fifth, the creation of consistent, high-quality documents poses a challenge. Sixth and lastly, even in the aftersales field do companies face expensive processes such as identifying spare parts.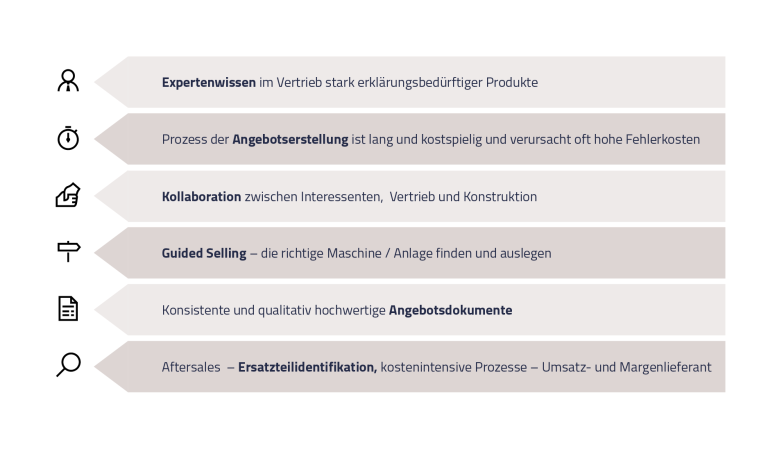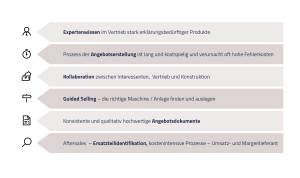 How can CPQ Help Mastering Said Challenges?
Achim Beckmann:
In many companies, Excel is still used in the sales process. Even though CRM systems have already been implemented, the offer process for complex machines has received little to no digitization. This is where specialists with in-depth know-how are demanded. To do so, however, you will have to find one first. With a CPQ solution, even sales employees with less experience are quick to create correct and high-quality offers.
Furthermore, many manufacturing companies face high failure costs. What this means is that inconsistent configurations are offered since there is no central database for compatibility relationships. With a CPQ, you can only offer and, consequently, produce what matches the rule set. Also, no offer can be forwarded to customers that did not pass the approval workflow beforehand.
Based on our experience, there are also still difficulties concerning the "go-to-market" of a new product. Little is known by the sales team about product novelties so that they are offered only with heavy hesitation. Here, too, a CPQ can assist with Guided Selling and its rule set as a basis.
What are the Preconditions for Utilizing CPQ Efficiently?
Achim Beckmann:
In our end-to-end processes, we come across product data at various spots. In order for the process to function smoothly, the product data must also be consistent, free of error, and well-managed. Let me illustrate this by using two examples:
First, we have a B2B self-service portal with spare parts identification. Customers for machine components can use 2D and 3D models to identify spare parts more easily. This customer group requires precise information to avoid machine downtime. It is here where we draw from well-structured data from a PIM system.
With the help of our Guided Selling approach, our solution provides sales employees with a walkthrough for a large number of variants in order to support them in the pre-configuration and selection of optimal offer components. In this process, texts, images, and other product data from the PIM is put to use.
One further central element is the offer generation. Our CPQ solution creates offers, configures products, calculates prices, and generates offer documents. These documents must be informative and appealing. Other than sales and configuration data, we also bank on product data such as images and marketing texts which are managed in the PIM system. PIM systems are also suitable for print exports, and we are currently in the process of implementing this function.
Markus Pichler, you are Managing Director of eggheads. Your company already has plenty of experience in the PIM field in relation to cloud solutions. You are probably the best candidate for explaining the following:
Why does it Make Sense to Combine PIM and CPQ?
Markus Pichler:
The combination of PIM (Product Information Management) and CPQ makes sense for companies for multiple reasons. Naturally, product data plays a central role in it. While a CPQ tool primarily aims at the optimization of offers and offer creation, PIM concentrates on the consolidation and the management of product data. This combination provides immense benefits for companies.
Firstly, the combination of PIM and CPQ enables a smooth connection between product information and configuration possibilities. This means that sales employees have access to up-to-date and precise product data during the offer creation. Secondly, the combination of PIM and CPQ leads to a consistent presentation of products in offers, hereby establishing both professionality and the customer's trust. Thirdly, this combination facilitates the managing and updating of product data since all changes are made in the central datahub and flow, from there, into all relevant processes. Fourth and lastly, it contributes to reducing errors and time loss because the entire process from configuration to offer creation is rendered more efficient. All in all, the combination of PIM and CPQ grants companies the possibility to optimize their sales processes and offer customers a better purchasing experience.
How do Both Systems Work Together?
Markus Pichler:
CPQ and PIM work hand in hand to optimize sales processes. You can think of it like this: The PIM functions as the central data source for all product information such as details, images, videos, and much more. When a configuration is made in the CPQ system, we directly access this information from the PIM. The PIM makes sure that only the most up-to-date and precise data is used everywhere.
The next step concerns the price. In particular when it comes to the B2C field, the CPQ system makes use of the data from the PIM to automatically calculate prices for individual products. This includes, for example, the base price but also the specific configuration fees or special discounts.
In the offer phase, the CPQ system automatically creates offer documents with all configurations and prices. And it is here where PIM helps enriching these documents with further product information – for a clear and convincing offer. The beautiful thing is: Every updated unit of product information in PIM is automatically transferred over to the CPQ system. This way, all offers are correct and stay up to date.
How can the PIM and CPQ System be Smoothly Integrated to Maximize the Company's Benefits?
Markus Pichler:
This can be accomplished by means of interfaces which make it possible for systems to exchange information in real time. Or one opts for a platform that integrates or supports both systems.
A further step is the synchronization of data. The PIM system ought to function as the single source of truth for product information and this data should be transferred over to the CPQ system at regular intervals in an automated manner. This way, you can make sure that up-to-date and consistent product information is always available for configurations and offers.
The integration does also enable the use of rules and validations in the CPQ system on the basis of the PIM data. This acts as the guarantor that recommended configurations are technologically feasible, in correspondence with product standards.
What Challenges May Arise in the Process and How can they be Overcome?
Markus Pichler:
The integration of a new system also means, of course, that there will be changes in existing workflows. Here, it is imperative that you prepare your employees and provide software training so that they can make effective use of the new processes. Furthermore, companies should also take into consideration to where the journey is supposed to lead them. While the integration may, initially, be intended for a specific product or a specific market, the company may grow and transform in the meantime. This is why the integration should be set up in a way that it is scalable and can keep up with the company's ever-evolving requirements. Not least because of their scalability, cloud solutions continue to enjoy increasing popularity.
Overall, the integration of PIM and CPQ requires careful planning, clear communication, and the willingness to tackle challenges head on. With the right approach as well as a comprehensive support and service package set up by the software provider, however, these challenges can be successfully mastered so that you can make full use of the benefits involved.
What Further Developments can We Expect from PIM and CPQ Solutions in the Upcoming Years?
Markus Pichler:
The fields of PIM and CPQ are constantly evolving. I am firmly convinced that Artificial Intelligence and machine learning will play an even more crucial role for PIM and CPQ solutions in the future. These technologies can help provide better product recommendations, optimize the configuration process, and improve accuracy in data management.
In order to stay ahead in the face of fierce competition, companies will put increasing emphasis on working out how to design personalized and tailor-made customer experiences. PIM and CPQ solutions can contribute to this process of creating individualized offers and configurations which match the specific needs and preferences of different target groups.
However, expanded analysis possibilities will also play a key role in the future. Be it customer feedback data or data from PIM and CPQ systems. Future developments will provide more elaborate analysis tools and dashboards which will then allow companies to gain valuable insights into their own target group or establish efficiency in sales processes and product management.
Product Data & Bites on 13.09.23: Valuable Contacts and Fresh Ideas
Don't miss out on the free business event by eggheads and In Mind Cloud. You can look forward to networking possibilities and valuable contacts with renowned players in the industries and retail – over delicious snacks and exciting presentations about the newest innovations such as CPQ, PIM, and AI. Secure your free spot right now in the Westfälischer Industrieklub, Dortmund, on 13.09. at 5 PM.