Product Information Management
PIM Implementation: Full-Service Project or Do-It-Yourself?
This is How Your PIM Implementation will Turn Out as a Success Story
Owing the circumstances of the corona crisis, the industries have received a turbo boost in digitization. "It's all about utilizing the momentum of the crisis." – many companies have taken this motto to heart for driving the digitization of their processes further and further. To this end, the implementation of a Product Information Management software (in short PIM) is an essential step towards staying streets ahead of the competition in our digital day and age. However, what even is a PIM to begin with?
To reduce it to the minimum: A PIM functions as the central datahub for all your product information chains. In the process, all data is first pooled together from various input channels, such as an ERP system, then managed within the PIM and, lastly, distributed to relevant target channels.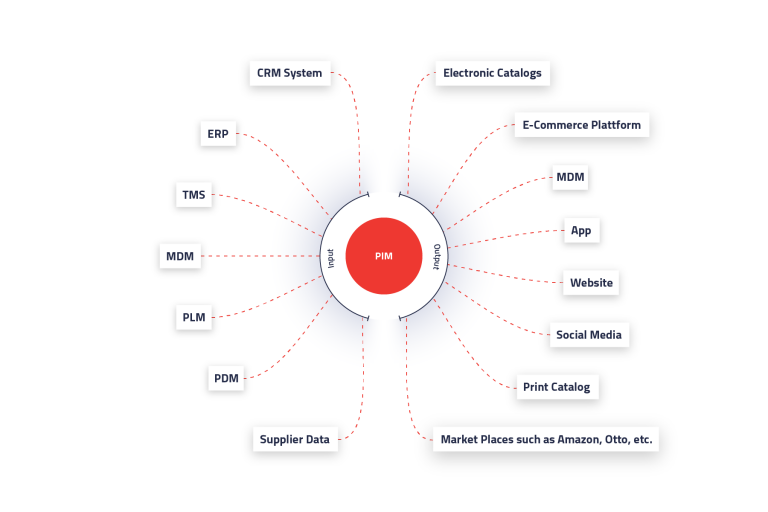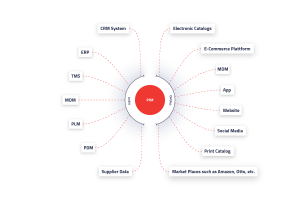 The digitization of product data and information is what enables companies to automate their interfaces, connecting the PIM system to their shops and sales channels in real time. And it is only through such a transformation that companies can, consequently, put the potential of digitization to full use on an international scale by distributing product content to all customers in an efficient and target-group-oriented manner.
The challenge that comes with this: With the installation of a PIM system, the job is still far from done. Switching to an intelligent software solution requires far more than this: It entails an entire project with the goal to shape new processes, develop concepts, and successfully implement them. Support for achieving this is promised by a great many service partners. They advertise the complete implementation as part of a so-called full-service project, taking care of everything for you. Yet, is this really a must-have? Isn't your team more than capable of managing this on its own?
It is! What implementation model suits your company best depends on your individual needs and skills. With the right concept and a good roadmap, your project can be implemented fast and at a low cost rate. What you'll absolutely have to look out for when choosing between full-service, partial service, or do-it-yourself project – that's what you'll learn if you keep on reading.
Full-Service Project or Do-It-Yourself – The Defining Differences
As part of a full-service project, a third party is tasked to take care of the implementation for the company. In this case, your partner carries out the complete integration as well as the switch to the new system in your place. Such partners can be the software developer of the PIM system itself or a service partner who specializes in carrying out software implementation projects.
The advantages are clear as day: You save internal resources – which are, as is generally known, always hard to come by – and you directly collaborate with the experts for the system. With years' worth of experience to back them up, partners know all the wrinkles of a successful PIM implementation and will make sure to make good use of this great foresight in the planning of the software environment. Naturally, the provider will demand an adequate fee for such service, which is why full-service counts as the most expensive model.
The most decisive difference, however: You let go of the steering wheel! In case of doubt, the third party which takes over may only have a surface-level understanding of your product portfolio and related processes. This is why the missing project control options of a full-service project pose various challenges and involves corresponding risks. If new processes and workflows are dictated by an outsider, it may be the case that they'll find less acceptance and willingness to adjust accordingly by employees. If the new processes are conceptualized directly by your team, they'll be quick to realize the added value and will look forward to the new software environment which can, thus, guarantee an improved work life. Lastly, the know-how for adjustments and modifications will fall outside of your own field of competence, hereby suffering from a one-sided dependency on your implementation partner – even after the completion of the project.
Full-Service Projects: Advantages and Disadvantages
+ Saving internal resources
+ Service partners are experts for the technological potential of systems
+ Service partners have project experience and know all best practices
– Full-service is costly
– Service partners don't know your organizational structures
– Less project control tools
– Dependency on service partners for adjustments
– Loss of know-how after project completion
Do-It-Yourself Implementation Projects
When it comes to the independent PIM implementation, it's you who is taking control. Your unique advantage: The various corporate departments can each contribute to the implementation of the PIM system with their expert knowledge. First and foremost, this concerns the Product Management with its expertise in the requirements of technical data – ranging from the company's print catalog to e-commerce platforms and partners. The Marketing, in turn, knows exactly how products are presented in the best possible light in your online shop with the help of just the right texts and digital media assets. Another central spot in the project team is occupied by your IT. With their knowledge of the current software environment, they can set the foundation for all future interfaces connected to the PIM system. Last but not least, the position for the person in response and your taskforce must also be filled to complete the team.
What may always pose as a problem in self-guided projects: When it comes to the integration of new software solutions, there're far-reaching decisions to be made, especially in the beginning. And this is where the big disadvantage of do-it-yourself projects comes into play: Many uncertainties and mistakes can trick their way into the very foundations of the project. This eats away valuable time and resources, while also weakening the team morale. What you're lacking now is an expert for the strategy and implementation of your system with a tailor-made roadmap to boot. In short, the best solution for a successful PIM implementation borrows a bit from both methods: expert knowledge of service partners combined with the already well-established expertise of your company's specialists.
We from eggheads have developed a concept that combines the best of both worlds. Our implementation concept offers the perfect synergy of full-service and your specialized know-how. Before we present to you our own concept of service, however, let's once more recapitulate the advantages and disadvantages of self-guided software implementations.
Do-It-Yourself Projects: Advantages and Disadvantages
+ Draw from valuable in-house knowledge about the product portfolio
+ You'll become the expert of your own system
+ Plan and live your own processes
+ Know-how stays within the company
+ High acceptance rate when switching to the new software
– No best-practice experience
– Uncertainties when it comes to decision making
– Unknown or untapped potentials of the new system
The Best of Both Worlds: The Hybrid Model
The hybrid solution entails the close collaboration of your project team with software experts. In goal-oriented control meetings, you profit from the knowledge and best-practices while also reducing the project budget. Thanks to the active participation of your team, you benefit from lived processes and satisfied users. Experience shows: The hybrid solution proves to be particularly crisis-proof since it guarantees both, a high acceptance right as well as continuous progress.
We from eggheads have made it our business to make you fit for your PIM project. This includes providing an alternative to full-service, by combining your comprehensive knowledge of your industry sector with our years' worth of PIM experience. This way, we can conceptualize a solution together which is tailor-made to fit your needs and gives your product data the attention it deserves. Our battle-tested phase plan is what assures the required orientation throughout the entire project. Equipped with this, you'll never stray away from the right path and always have all to-dos available at a glance.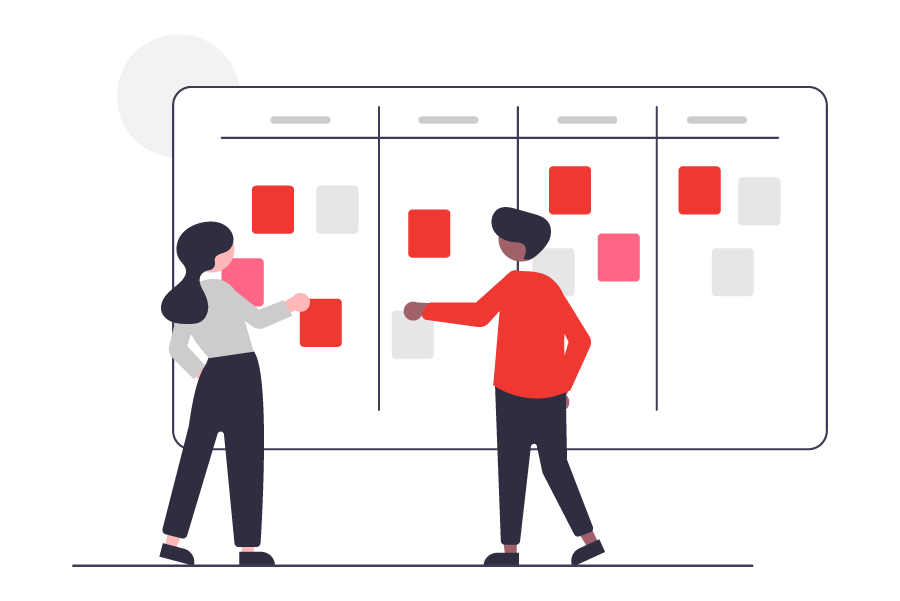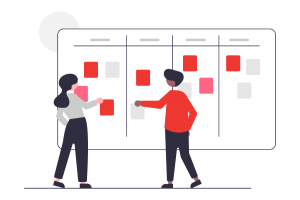 Following this method, you progress continuously with micro-level successes, which keeps your team motivated and keeps the egg rolling. In order to guarantee sustainable long-term success, our eggheads software trainings are intricately linked to their respective project phase. Well-equipped with the right knowledge at exactly the time you need it, your project team will be able to master all implementation challenges in a skillful manner. And the best thing is: The entire know-how and all important information stays within the company. You'll be the expert, capable of adjusting your PIM system to your requirements even after the project ends – without depending on any of your partners. Of course, we eggheads will always be at your service even after the customer project has been successfully completed! We from eggheads view ourselves as a long-term partner and accompany our customers on their way towards digital transformation in a demand-based manner, allowing you to get the maximum out of your product data and information.
Best Practice for Fast PIM-Implementation
In close collaboration with our customer STEINEL Normalien AG, we've managed to implement our eggheads PIM with minimal service hours.