Product Information Management
Product Information Management: Bring Order into the Information Jungle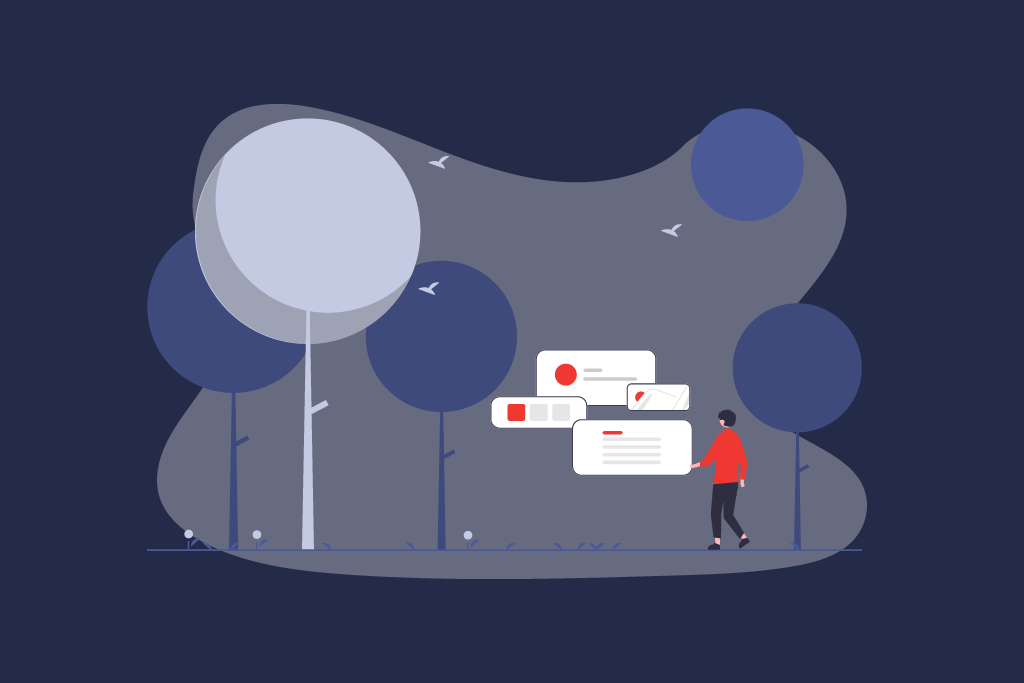 With Product Information Management Toward Maximum Efficiency and Smooth Processes
In today's economic world, companies find themselves confronted with an unprecedented flow of information. Digital transformation results in a large variety of new channels and touchpoints, all requiring content in specific formats. Additionally, customers have grown to become much more demanding and are more well-informed than ever, which is why they are expecting personalized product information as well as consistent, up-to-date, and correct product data at all times. For this reason, it's of utmost importance for companies to efficiently manage and optimize their product data. Naturally, where there is a problem there is also a solution: Product Information Management is the magic word.
In this blog entry, we will look at this concept more closely, shed light on its significance for companies, and demonstrate how Product Information Management will support you in staying streets ahead in a highly competitive environment.
💡 What is Product Information Management?
Product Information Management is a process and a piece of technology for the efficient management of product data in a company. It guarantees that all relevant data about a product is gathered centrally, kept up to date, and distributed to various sales and media channels. Its main task is to collect, prepare, standardize, and store product information from a variety of sources in a single central database. This includes information such as product descriptions, technical data, prices, availability, images, videos,  as well as other relevant digital assets.
The Role of PIM Systems in Product Information Management
To master all these tasks, so-called PIM systems are developed. They enable companies to efficiently manage information and distribute it to a myriad of sales channels such as online shops, marketplaces, catalogs, mobile apps, and other digital media. With the use of PIM software, you can make sure that your product information is consistent, up to date, and correct – which, in turn, results in improved customer satisfaction, higher sales numbers, and more profits.
Furthermore, PIM systems make the personalization of your product information for various target groups possible and allow you to adjust them to the different regional markets in order to optimize customer experience. Among other benefits, you can also facilitate the collaboration between different corporate departments such as Marketing, Sales, and Development to make sure that all parties involved are always on the same page when it comes to creating and managing product information.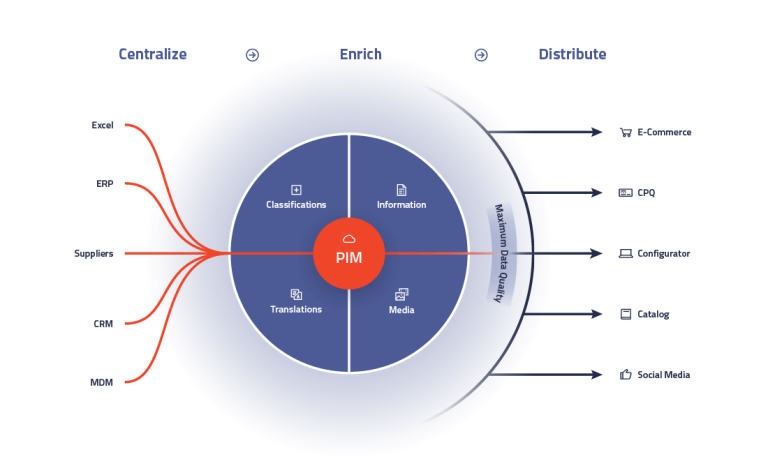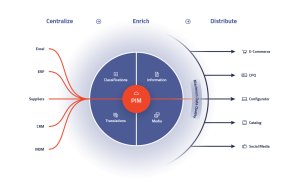 What Kinds of Data belong to PIM?
A Product Information Management system can be used to manage all sorts of product information. What kind of data exactly flows through an individual company's PIM may vary depending on their unique requirements and objectives. Below, we've listed some of the most prominent types of data managed in a PIM:
Product Data: This includes all the foundational information about a product, such as article number, product name, description, properties, dimensions, weight, material, color, and related attributes.
Technical Data: This type of data refers to the detailed technical information of a product, e.g. exact measurements, specifications, compatibility, performance, energy class, operation requirements, and other such technical details.
Images and Media: PIM systems usually store images and other media content relevant for products. High-quality images contribute to enhancing the visual presentation of products and can easily catch the customer's attention. In some advanced use cases, the connection to a DAM system (Digital Asset Management) may be relevant.
Product Categories and Features: A PIM can store information about product categories and features. This makes it possible for companies to structure their products into various assortments and create relations between similar or compatible items.
Translations: For companies operating in multiple countries, translations are an absolute must-have. In a PIM system, all translated product information and digital assets can be pooled and provided for a multi-lingual customer experience. Here, too, the connection to a specialized software solution, in this case Translation Management (TMS), can be of great help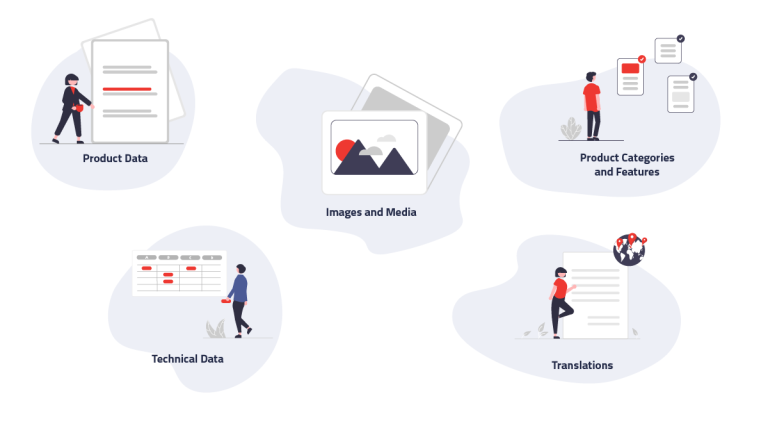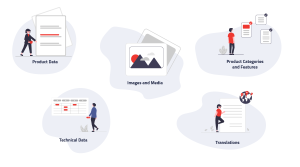 What about Prices and Stock Levels?
Such data can also be transferred over to the PIM software, yet the PIM solution should only be conceived of as the mediator between source and target in this case. This is because the data sovereignty belongs to other tools such as ERP systems for this kind of data.
The 6 Steps of Product Information Management
1. Data Collection:
In the first phase of the PIM process, product information is gathered from various sources, including existing databases. technical specifications, information delivered by data suppliers, as well as from ERP, TMS, or CRM systems. Consequently, all this data is processed and prepared for editing.
2. Data Cleaning and Standardization:
The next step is a thorough cleaning and standardizing of the collected a data. In the process, duplicates are removed, missing information is supplemented, and all data is brought into a uniform format. The product information comes to attain a high degree of consistency and precision in this manner.
3. Organization and Structurization of Data:
Imagine entering a well-organized store. You have the perfect overview at a glance, the products are ordered by categories such as product types, brands, or attributes. This is precisely what you get with Product Information Management. The product information is organized in a hierarchical structure − e.g., by product types, brands, or attributes. Creating a clear structure which results in a compact product data model facilitates the management process and product searches significantly.
4. Data Enrichment:
In order to make your product information as comprehensive and convincing as possible, further information is supplied in this crucial step. By adding further intel such as product descriptions, technical data, images, videos, manuals, certificates, and much more, you bring your product to life as if it were within the customer's reach. With this refinement of data, then, you can not only present products professionally, but also create stories. Your customers can see the product live in action, understand how it works, and experience the quality at work with their own eyes.
5. Localization and Personalization:
If your product is to conquer new markets, localizing and personalizing is another crucial process step. You can do so, for example, by adjusting the product description to the respective regional language to make sure that your brand message is understood in this specific cultural context. This enables customers to explore your product in their preferred language. Besides going multi-lingual, further adjustments to different target groups can be made. This, then, allows for a more target-oriented and efficient communication.
6. Data Distribution:
As soon as your product information is perfectly prepared and enriched, it's time to present it in your various sales and marketing channels. Just like on a living buzzing market place where every stand has its own attraction, your product information is distributed strategically to achieve maximum visibility and reach. Your products are presented in online shops, they appear on prominent marketplaces, while potential customers can go shopping for the best offers. At the same time, your information is also available in electronic catalogs and apps in order to provide your customers with a smooth purchasing experience.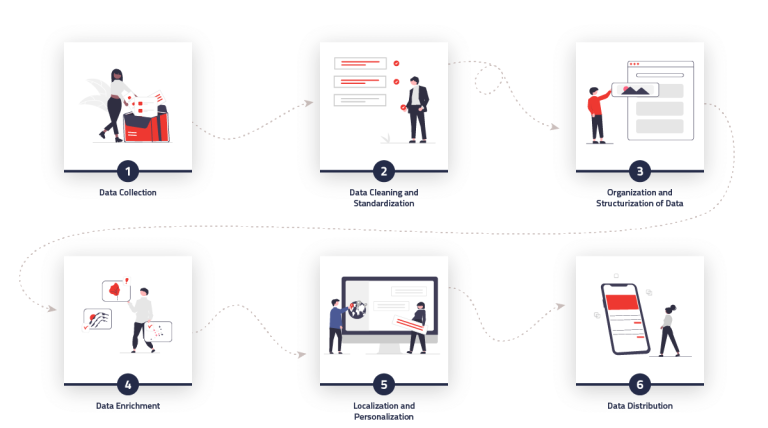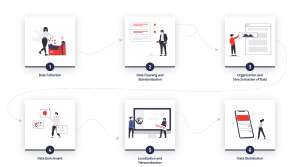 Who Benefits from Product Information Management?
A large variety of companies with an extensive product portfolio profit from PIM. Here are some examples:
Specialized Retailers: Thanks to the central data management and automated distribution of product data, retailers profit from efficient processes which smoothly transition into each other without any gaps. Additionally, a PIM system guarantees for a consistent and uniform presentation of all product information.
Wholesalers and Distributors: The collaboration with many suppliers and products is made a lot easier. This is because a PIM collects, standardizes, and manages all product information while guaranteeing correctness and completeness across the entire customer journey.
Manufacturers: PIM allows you to organize your product databases. A single source of truth is established for pooling all kinds of product information. This improves internal teamwork and makes it possible to provide consistent, high-quality information to sales partners and customers.
E-Commerce Companies: PIM is decisive for the efficient management and presentation of product data in online shops. With a PIM system, this product data can be centralized, updated, and adjusted in order to secure a frictionless purchase experience with a high customer satisfaction rate.
Companies with Many Product Variants: PIM organizes and structures product information in order to effectively relate all product variants and allows you to offer them on various channels. This is especially helpful for companies with products in different sizes, colors, and styles, etc.
Companies with Configurable Products: Product Information Management also enables the simple structurization and management of data for supplying product configurators and CPQ systems in the correct format. This will always deliver the desired results.
7 Good Reasons Why Companies Should Invest into a PIM System
1. Manage Product Information Efficiently: With a PIM system, product information can be managed in a centralized and well-structured manner. This saves time and resources during data collection, cleaning, and distribution.
2. Consistent and Precise Product Communication: Through the implementation of a PIM system, your marketing team can publish consistent and uniform product information across all sales channels which, in turn, translates into a stronger brand image and optimized customer experience.
3. Improved Data Quality: With a PIM system, product managers can clean, standardize, and always keep all data up to date in and through a central source. The result: Precise product descriptions and attributes without any gaps or missing details.
4. Personalized Customer Experience: A PIM makes the time-and-resource-friendly personalization of product information for different target groups possible, allowing you to deliver relevant and appealing content that will strengthen customer retention. The dream of target-group-specific content becomes reality.
5. Effective Channel Management: With PIM software, marketing managers can efficiently work on and synchronize product information distributed to different channels for establishing an all-encompassing omnichannel experience.
6. Time and Cost Savings: Automated PIM tasks such as data collection and distribution reduce manual labor, accelerate the time-to-market, and minimize both effort and costs.
7. Scalability and Growth: A PIM enables the efficient scaling of product databases and information. With this, you will be quick to expand your product assortment.
You Want to Experience the Power of Product Information Management live?
Secure your spot for your very own live demo! Our product experts grant you exclusive insights into the functions of our PIM tool, eggheads Suite. We demonstrate how you can utilize this system in order to make your Product Information Management even more efficient.