Product Communications
5 Tips for an Efficient Product Communication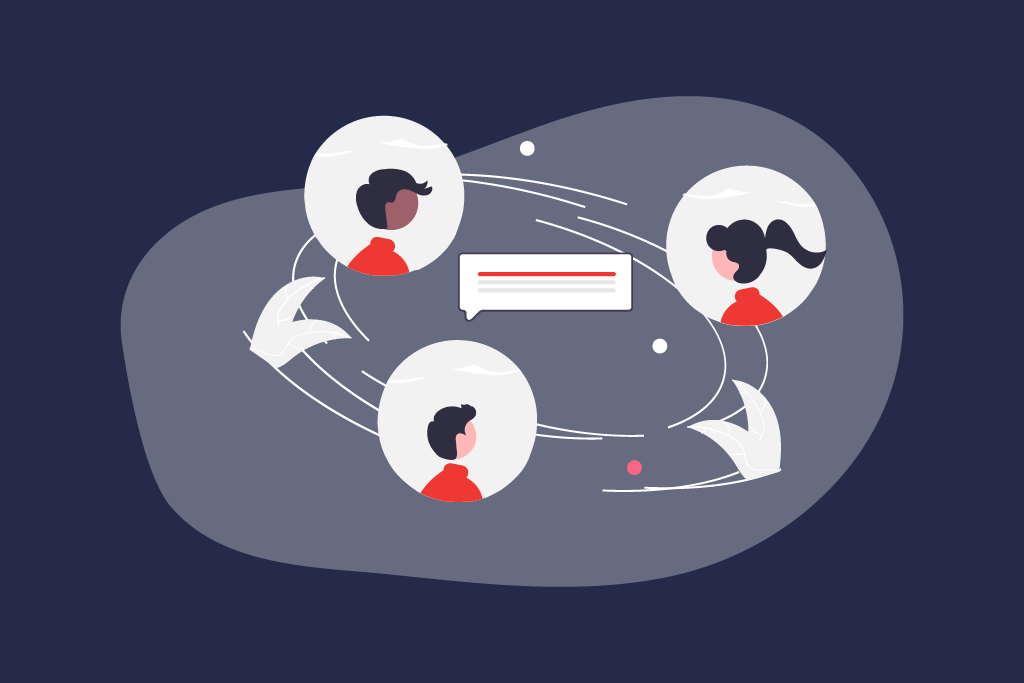 This is How Your Products Effectively Fly of The Shelves
With digital transformation, new challenges continue to present themselves – which companies in general and, more specifically, marketing departments are to tackle head on. This includes the ever-increasing number of sales and communication channels, e.g. social media but also new technologies such as augmented reality. In this blog entry, you'll learn how to master such challenges. We'll present useful tips to you on how to optimize your Product Communication in virtually no time and elevate it to the next level. However, before we deep drive straight into the topic, it doesn't hurt to quickly remind ourselves once more of the basics of what the concept of Product Communication entails.
❓ What is Product Communication?
Product Communication is the structured processing, refinement, and distribution of product-relevant information. Among other things, this includes descriptions, prices, technical data, images, videos, and installation manuals.
Why Product Communication is So Important
Strong Product Communication is the be all and end all when it comes to competitiveness. Why? This is because targeted and smart communication delivers a consistent message together with the benefits your product has to offer straight to your target groups' eyes and ears. Successful Product Communication distinguishes itself by providing the right content at the right time at the right place. Only in this manner can you convince your target groups to make a purchase decision, generate sales, and secure your competitive edge. Sounds simple and reasonable, doesn't it? However, for many companies, it poses a great challenge to communicate the value their products bring to the table.
The bare basics worth of information, such as product name, technical description, and article number is insufficient for satisfying the demanding customer. In order to make your products attractive and present them in the best possible light, product images and, ideally, product videos are a must-have. So far so good. Though, you need to be more specific here: What measures can you take in order to inspire people with your Product Communication?
Tip 1: Keep Your Target Group in Mind
Adjust your entire Product Communication thoroughly to your target groups.
Before doing so, make sure to answer the following questions:
Who is your target group?
Where, on what platforms is your target group active?
What needs does your target group have?
How and with what topics can you catch the attention of your target group?
These are the questions you need to have a clear answer to before you go on to render unknown users into clear-cut customers. In order to gain an in-depth understanding of your target group, creating a Buyer Persona or two can work wonders. Why would you, for example, supply a Snapchat channel with content if your target group isn't even active on there? Save time and money by focusing on the channels that are truly relevant.
Tip 2: Put Emphasis on Unique Selling Points
The most essential aspect of your communication with customers is to present the benefits your product provides in a clear-cut manner and to make it as explicit as possible. Why should interested target groups buy your product in particular, why are your solutions better than the competition? Always focus on the advantages your product brings to the table as far as use case functionality and usability is concerned – and make it plastic so that your customer can see these benefits in their mind's eye. They should be able to spot your unique selling points at first glance. Remind yourself of the basics: people are always searching for solutions to their use cases and problems.
This remains true especially for technical or complex products. Here, this is no easy task to establish. Try to smooth your target groups in by also providing emotional data and a relevant Product Experience to match.
Tip 3: Don't Forget about Good Content Marketing and Story Telling
A captivating user story is worth gold. In particular when it comes to seizing your future customer's attention and distinguishing yourself from your fellow competitors.
This is even more evident today than it was a few years ago. Nowadays, products can be compared globally on the internet at the click of a few buttons – here, the name of the game is to provide something which the others can't. Smart storytelling (which synergizes well with the video formats) can help you to position your brand in a targeted manner and win target groups. Create unique content which may even transcend your individual product, e.g. recipes, creative use case applications, and best practices. To give a real-case scenario, Juwelier Christ provides not only emotional descriptions and technical data, but also tips on how to maintain their jewelries and watches, where customers will find notes and tips on how to maintain their products or even how to dispose of older products in an environment-friendly way.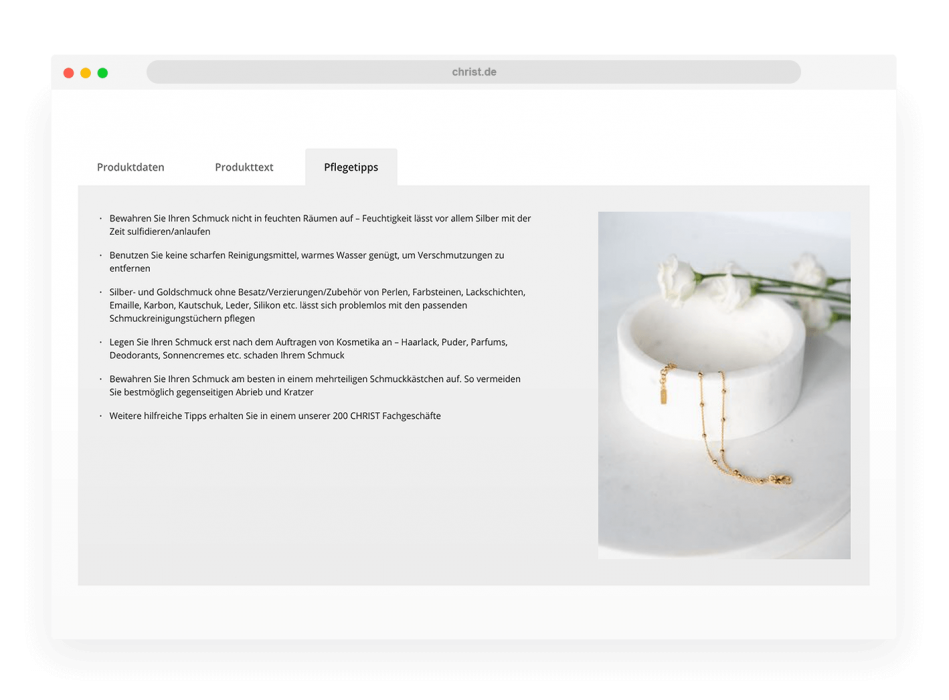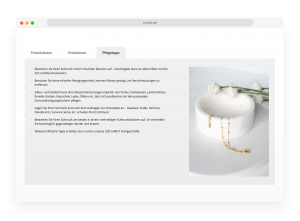 This is one example of how Christ presents the benefits of their products to customers while also generating more sales of their accessory kits.
Tip 4: Data is the Be All and End All. Maintain Your Product Data!
Have you experienced this before? The tedious effort required to search and collect product data – some may be provided in the form of Excel tables, some you may discover in PDF documents, and for other data you need to do some research inquiries involving various departments and teams. The is pure poison for successful Product Communication.
Only if you have a firm grip on your data can you send a consistent brand message across multiple publication channels, without running into any performative self-contradictions. Product Communication is the structured processing and preparation of product-and-target-group-oriented information. If incorrect product information is provided at marketplaces, this can have fatal consequences for you company: customers lose their trust into your brand, which in turn translates into a loss of sales. Accordingly, it's imperative to optimize your data for a consistent brand message. More often than not, this poses a considerable challenge to companies since most information is only available in a decentralized infrastructure, spread across various data sources. Despite of that, the solution is self-evident.
Tip 5: Bank on the Right Technology!
Software is what makes the world go round these days. This is a universal truth, even for Product Communication. In order to have a well-ordered data foundation with which you can operate efficiently, you'll need a system. For your customer data, a CRM system should be your go-to choice; for your product data, a Product Information Management system, in short PIM system, is a must-have.
PIM allows you to pool all your product data together in a central data management tool. Consequently, you can enrich information and add media assets. Lastly, you can distribute validated data into relevant sales channels. This way, you can always view all your data at a glance – which, in turn, means better data quality and more successful Product Communication. Furthermore, PIM supports you in designing personalized data and enables you to address customers in a targeted and strategic manner. With such an all-in-one system, you can cut down your time-to-market and, since your published data will always be apt, minimize return rates because of better product descriptions.
Information is Fundamental
Successful Product Communication is neither witchcraft nor rocket science. However, it does require some groundwork and attention to your product data. With the right tools to support you in doing so, this will pose no problems whatsoever. Tools are there to help you, so make sure to make good use of them. With the smart use of the right tools and software systems, you'll make your team's daily work life more efficient, you save valuable time and human resources, and you can, finally, focus on what truly matters – your customers.
Only with a central and intelligent data foundation will you be able to create and refine the content which can be distributed at the right time, at the right place, and in just the right quality. And this is the point where we eggheads come into play with our PIM software, eggheads Suite. Are you interested in learning how you can elevate your Product Communication to the next level with our software? Then, what are you still waiting for? Convince yourself first-hand and set a date with us for a DEMO tour.