E-Commerce
Reducing Return Rates with PIM: This is How it's Done!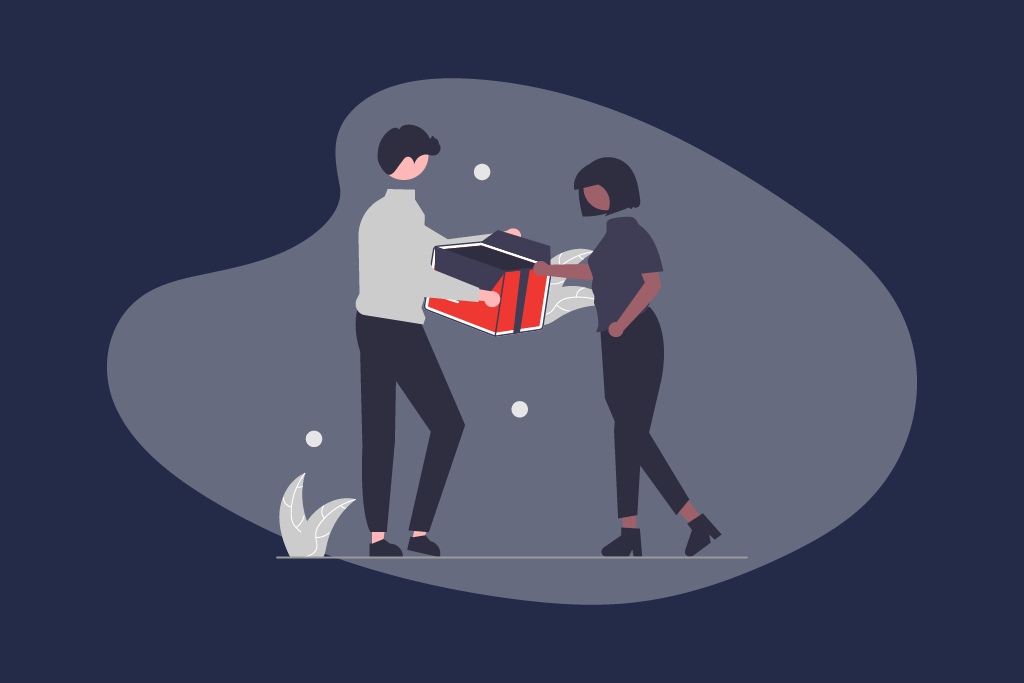 How a PIM System Helps You Minimizing Return Rates and Saving Costs
Owing the circumstances of the corona pandemic, online shopping is currently booming as never before. Accordingly, the product return rates have also skyrocketed. With a return rate of 64.3 percent, Germany is European Champion in returns of delivery orders (source: www.retourenforschung.de). About two thirds of the orders placed in the fashion industry are being returned. Not only time but also the financial aspect is enormous. On average, the return of a product costs the retailer 15.18 euro. This amount is the sum of the process costs and the loss in value. This, in turn, is reflected in the product costs. By now, many e-commerce companies are affected by this negative trend.
Did you also notice a trend in the increase of time and resources allocated to your company's product return management? Or you may have even faced the need to create a new position in order to handle the high product returns? Maybe you're already searching for a solution for reducing the product return rate of your online shop. With a PIM system, you have an effective and sustainable measure ready to hand with which you can lower the return rate of your company. Equipped with it, you can save not only time but also costs. Before we address this point any further, however, we want to have a closer look at the most frequent causes for high return rates in the e-commerce industry.
Product Returns in E-Commerce: Causes and Solutions
The causes for product returns in online retail are diverse. According to a study by KPMG (Statista 2023: Causes for Returns), 71 percent of the customers who return goods do so because the product doesn't match their use case, followed by insufficient product quality or personal dissatisfaction with the product as major reasons. However, causes such as "product doesn't correspond to description" are decisive for high product return rates. Another survey of this study (Statista 2023: Reduce Returns) does also show that 57 percent of the customers whish for better product information and commonly share the self-assessment that this is a measure for preventing returns.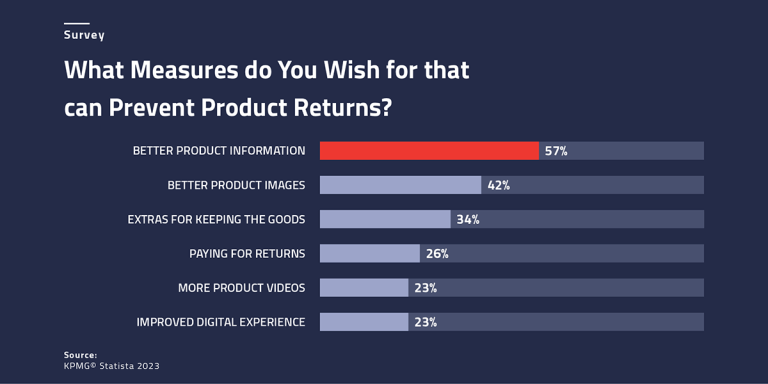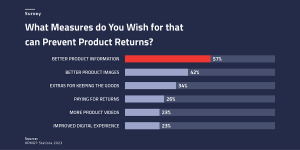 What makes for a good product description? The more precise and detailed an article is described the more realistic is the image the customers can create in their mind's eye. You can achieve this the following way:
expressive product descriptions
suitable recommendations for product variants (e.g., size and dimensions)
good product images from different angles
detailed product video
Little helper monkeys such as, for example, the so-called "nudging" are also currently high in trend. Nudging revolves around planting subtle notes which inform the customer that participating in the prevention of product returns is a contribution to the reduction of CO2 emission in its own right. To the end of preventing returns, there are also helpful AI tools (Artificial Intelligence). A prominent example for this would be "Fit Finder," an AI-based tool that helps customers finding the matching size.
If you operate in the fashion sector, you can grant customers the possibility to compare themselves with the fashion model by providing their body size and physical dimensions. Wherever this isn't possible, a detailed product description is all the more important to lower return rates.
Always keep in mind: after the purchase is before the purchase. Assist your customer throughout the entire shopping process in order to generate authentic customer reviews and product evaluations. Customers trust fellow customers. This way, you optimize your product descriptions and reduce returns.
In general, the following can be observed: if the product data quality is high then the product return rate stays low while the satisfaction rate of both customers and employees alike increases.
Product Return Rate in Full Control with PIM
And this is where the PIM system comes into play. PIM stands for Product Information Management and supports you in maintaining your company's product data. Whenever it's about improving the quality of your data, PIM is a good measure for creating the processes required to do so. PIM systems help you when defining, applying, and monitoring data quality rules.
The dashboard of the system facilitates the presentation of product data for you and your fellow coworkers, e.g. in the form of diagrams. This way, you will be quick to gather all the numbers you need and you always know where to begin when it comes to improving your data quality. You can classify your data objects, and you can do so as you see fit. In which units are your goods measured? Or do you want to give your product or other data objects a specific internal or external name so that it sticks better in your coworkers' or customers' minds? Other possibilities include terminology and translations. Subsequently, you can publish your product information on several output channels, such as your various online shops. Everything you need is your product and a PIM system which is configurable to fit your company's exact requirements.
The benefits of a PIM system at a glance:
You have a department-overarching, centralized pool for data management
You have automated processes for data collection and validation
The quality of your product data can be checked and viewed at the click of a button
You permanently save time and costs
Lower the product return rate of your company
Increase both long-term customer satisfaction and business success
Better Product Information = Lower Returns and Higher Sales
The equation is simple: better information prevents product returns in the double digits while also enhancing the customer satisfaction rate. Therefore, the quality of your product data is decisive for your business success. Let a PIM system handle the heavy lifting. Equipped with our checklist for optimal data quality, you have a best-practices guideline ready to hand with which can transform your data model, quite literally, into a top model in virtually no time.