Marketing
The Power of Users: How to Effectively Utilize User-Generated Content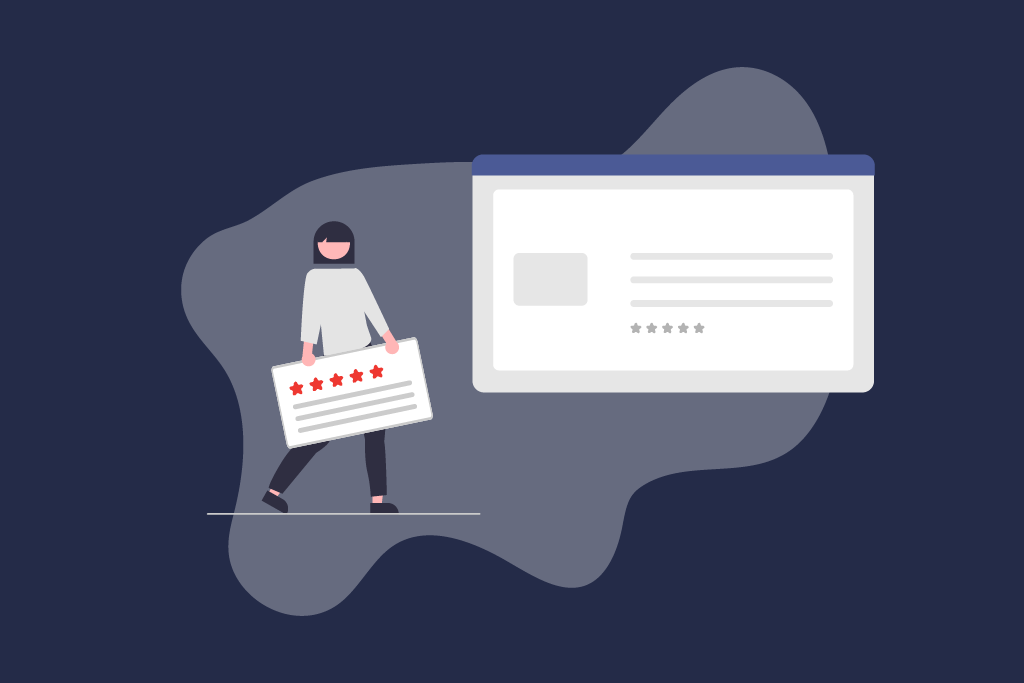 User-Generated Content: Authentic Experiences, Concentrated in PIM
Authenticity is today's currency. Credible experiences, real recommendations, inspiring feelings – the personal dimension informs nearly every important purchase decision. And this may be true on an even greater scale than you might have thought up until now: According to a case study by Nielsen, "Trust in Advertising", around 85 percent of consumers in Germany trust (personal) recommendations when they make a decision for or against purchasing a product.
The trend is also clear: Customer reviews, recommendations, and word-of-mouth marketing gain increasingly more relevance over branded content. However, why exactly is this the case? How can you turn this into an advantage for your company? And how can a PIM support you in doing so?
5-Star Rating: Word-of-Mouth Marketing in Digital Space
"All that they're trying to do is to persuade me into buying something" – did you ever have thoughts like these while encountering more or less credible advertisement promises originating from the pens and creative minds of the big ad agencies? More often than not, creating "branded content" comes with an enormous time investment and the need for a large budget – and while it's true that this produces high-quality ads which are well thought out down to the nitty-gritty details, it will also create a gap between you and your customer. The times were "bad publicity" was hard to come by is no more – if you ever happen to lose your customers' trust or adopt the wrong tone, your company can suffer damage at a sensitive point.
How, then, can your brand message be communicated to your customers in the most optimal manner – how can it move them, forge a bond, and animate them to make purchases? By winning over authentic customer voices for your products! This is because human beings want to trust credible testimonies by fellow human beings.
Any this is where "user-generated content" comes into play. More and more companies have come to rely on it. How about you?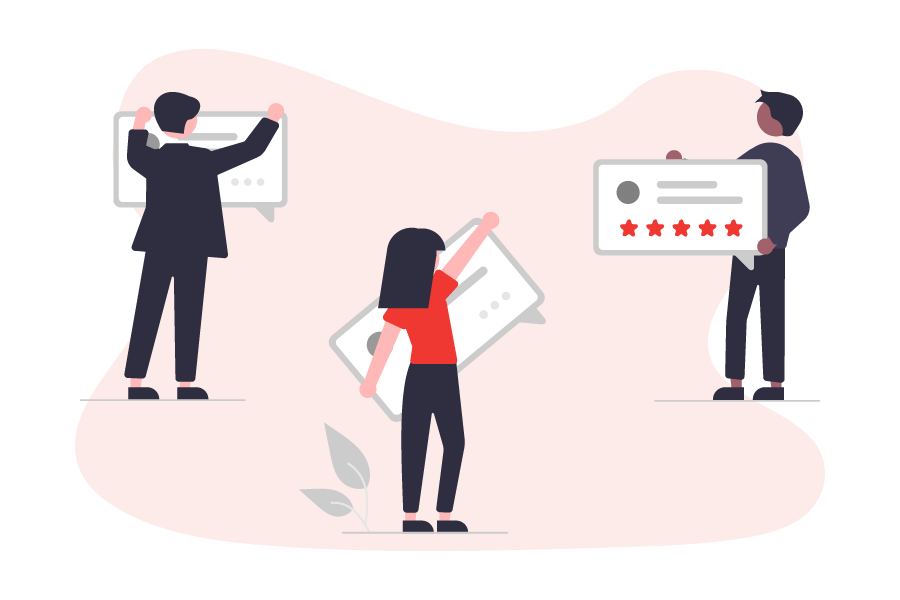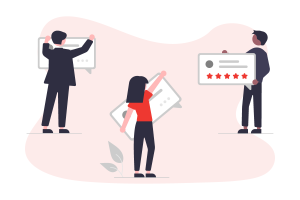 User-Generated Content – an Integral Component for Online Marketing
In the age of digitization – in particular: in the age of individualization –, a drastic shift has occurred in the expectations customers have. The classic one-fits-all solutions must make place for products and services which feel like made-to-measure solutions which match your very own personal needs. Whatever it may be that human beings happen to buy with their purchasing power – it's supposed to fit like a tailor-made suit. And how can you find the best tailor? Easy, with authentic, credible recommendations. From humans for humans.
User-generated content does no less than that: It shares personal experiences. As the term implies, user-generated content consists of all the material made by customers for customers; this may include product reviews on YouTube, star ratings on sales platforms, or extensive write-ups. What makes this user-generated content so valuable: Customers create this content voluntarily and independently – and, for this reason, it's all the more potent. Customers make actual positive experiences with the product or service – and feel the authentic motivation to tell others about it. User-generated content is, as a result, a recommendation by a human being for other human beings – in the digital space.
Here are Some Further Advantages of User-Generated Content:
Social Proof: When you buy online, you can't examine and try out the product for yourself live and in color. That the information provided by the manufacturers themselves presents the product in a positive light is to be expected before you even have a look at it – accordingly, an unbiased person's voice who doesn't profit from praising the product is all the more important. Such an authentic opinion is referred to as "social proof" – and is generally perceived as more authentic and honest than the manufacturer's own brand ambassadors. With social proof, user-generated content generates one of the most crucial currencies in marketing: trust.
Brand Loyalty: User-generated content focuses on the experiences of products – not primarily the product itself. Human beings can identify themselves with experiences. They can exchange information about it, give further recommendations, and can join the collective discourse about the brand. This, in turn, can occur in many ways – depending on what matches the brand. Be it competitions or surveys, re-posts or comments in social media, hashtag campaigns, or attractive raffles – all this can motivate a human being to get further involved and make more interactions.
Crowd Sourcing: User-generated content is created by real customers – as such, generating it comes without a cost for your company. With user-generated content, you hereby receive an effective marketing instrument that frees up a lot of resources compared to planning and creating ads or image clips.
Multiplicator: Those who make good products want to make it known and accessible to as many people as possible. This works especially well in social media – and here, too, user-generated content plays a decisive role.
Even in the B2B field, user-generated content is a valuable marketing instrument. Adobe has demonstrated how it's done: The hashtag campaign #createyourstory animated numerous pros and creative companies to share the works they've created with Adobe software tools. Adobe itself hereby creates visibility, the brand reaches out to even more people – and, all in all, an interacting community of reciprocal recognition comes to be.
The Benefits are Self-Evident
User-generated content is free while your customers can, in turn, create it in a quick and easy manner without much effort. At the same time, you earn one of the most impactful marketing instruments of today – since user-generated content strengthens your credibility and boosts customer retention.
What are the requirements to achieve this? Naturally, a product that creates awesome experiences whenever your customers use it – and a well-integrated PIM to scale how much use you can get out of your user-generated content.
User-Generated Content in PIM – Why and How?
Do you supply multiple sales channels? Are you doing Multichannel Marketing? If so, then you can profit from a PIM – a so-called Product Information Management system. Here, you can store and manage your product data to guarantee consistency and completeness – and export it into all channels on which you want to be present and visible at the click of a button: online, offline, on various platforms, be it desktop or mobile end device, in browsers or an app. Insufficient data quality and inefficient processes are a thing of the past thanks to PIM – your content will be visible everywhere with consistent and complete product information. With your product data becoming cross-media, the entire world of e-commerce is open to you – thanks to a reliable, central, and practical datahub: your PIM.
Is your data complete, relevant, and correct? Your PIM provides the content exactly in the way you want it – and the purchase experience of your customers will always feel individual, uncomplicated, user-friendly, and personal. Thanks to clear product attributes, relevant information, and expressive media assets, your customers can form an educated opinion on whether or not to make a purchase; this, in turn, increases your changes to inspire customer voices and interactions. And satisfied customers are a reason to be happy either way.
In PIM you can, consequently, unify all sorts of product-related content that is of relevance to your marketing strategy. This may include: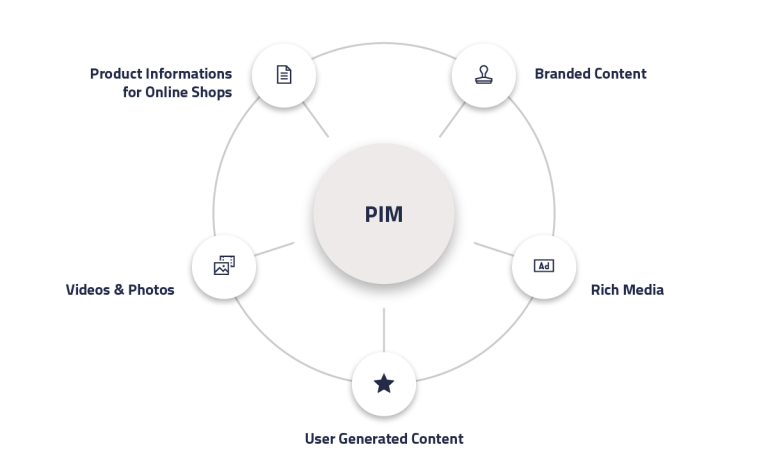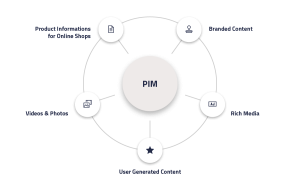 Why store user-generated content in your PIM? The reason is simple: If, for example, some valuable product reviews are posted in your online shop then make good use of it and utilize your PIM to also supply other platforms with it, depending on where you market your products. This way, the products are always accompanied by positive voices – regardless of where your customers prefer to shop.
This can also pay dividends for your SEO strategy: Online search engines such as Google use comments and ratings by customers to rank search results more intelligently. As a result, a well-maintained PIM filled with user-generated content can also improve your SEO rankings.
How exactly you make use of your PIM for your user-generated content depends on which target groups you wish to reach out to – and where. You have generated numerous interactions with your last raffle? Awesome, then make sure to mobilize these voices on your Instagram and Facebook, too! For YouTube, on the contrary, you may benefit more from using the most recent mention by influencers or content creators – and your positive reviews will also leave a more lasting impression on Facebook, XING, and LinkedIn this way! Tip: Make sure that you're also active on support forums whenever possible since this is where real users work with your products, exchange information about it, and seek help!
Even your corporate objectives can smoothly be integrated into your individual use cases for the PIM system. To make good use of user-generated content, you can, for example, define clear, empirically measurable, and time-bound goals and make your success quantifiable in concrete numbers. This way, you can progressively make more and more improvements to come closer to realizing your company's milestones. Possible factors may include:
Information (Can the content clear up questions or concerns by users?)
Engagement (How many likes, shares, and comments does the content receive?)
Conversions (How many actual purchases are motivated by the content?)
Brand retention (Did the general perception of your brand improve?)
The PIM system guarantees, consequently, that your online presentation convinces with reliability, consistency, and an overall strong brand impression. Import your user-generated content into your PIM so that you can let the positive voices that speak for your product be heard on all channels univocally – place it strategically for maximum impact.
Let's Conclude with a Few Tips:
This is How You Gather User-Generated Content
Possible incentives for your customers to dedicate their time to honor your product with user-generated content may include:
Competitions / challenges
Surveys / poll
Calls for people to share experiences or stories
Incentives for leaving a product rating (e.g., a raffle or coupons)
Possibilities to shape future product designs
Hashtag campaigns
Free test products in return for reviews
When these measures bare fruits, make sure to manage your growing community, reply to questions, like and share related posts by your customers, thank posters for comments and reviews, and also react to critique in a professional and friendly manner.
Now, enjoy yourself as you put theory into practice!
Ready to Elevate Your Product Data Quality to the Next Level?
If so, then we've got just the right solution for you: Our checklist for optimal product data quality. Equipped with this practical guideline, you can get your product data into top shape in virtually no time.