Product Information Management
PIM and ERP: The dream combination for smooth processes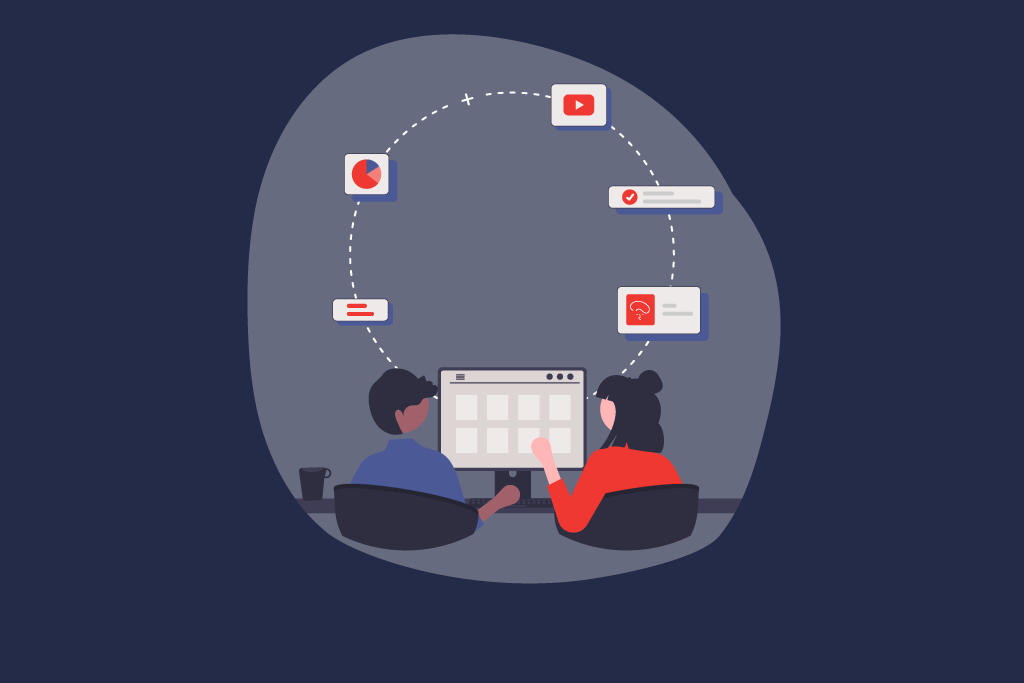 Efficiently Mastering Daily Challenges with PIM and ERP
Have you ever experienced this for yourself? Given a request by your clientage or from retail, you require some specific data about your products. And with that, the first problems already start popping up: after all, there is no single source of truth which you could 'draw' from. There is only a diverse range of data aggregates, each providing intel in different versions, of different states. Now, the tedious search for relevant product data starts to get rolling – scattered over different systems, Excel tables, and PDF documents, across various departments.
This is the case despite the fact that your company has at its disposal a fully implemented Enterprise Resource Planning system, in short ERP. Within this system, you can only find a part of the required data and product information. Many images, videos, additional documents such as datasheets, and also extensive description texts – which are even available in all sorts of target languages – are simply not stored in the ERP and are usually managed by different teams and employees in separate file and directory structures.
Additionally, if you don't only have different input channels but also different output platforms, including your own web shop and/or website, on top of customers and retail, then this spells an enormous effort which, more often than not, also comes with lower data quality under severe time pressure. As such, channel-specific and target-group-oriented data usually remains a distant dream.
Does the following fit your current shoe?
You're required to distribute data into various channels in a quick and efficient manner, for various target groups, as a multi-channel publication which supplies…

e-commerce systems,
content management, cross media publishing systems, and/or
enterprise content management systems.

You need to be flexible to react to new customer challenges on a day-to-day basis on the various markets.
The production of catalogs is eating up too many resources over extended periods of time.
The quality of the data you provide may be insufficient.
There is no option for a fast and easy update for website, web shop, online portals, marketplaces, or other e-commerce channels.
Your problems throughout the process are:
There are many different data aggregates from different departments of your company…

You're required to organize the data from all your employees by yourself
Product data is scattered all over the company
Different, inconsistent states of knowledge and no single source of truth
Incomplete product data

Data is only provided in raw formats, e.g. in Excel tables.
Supplying data translates into a lot of manual labor.
Updating product data is time consuming.
Data quality of information provided is no longer sufficient.
You can only reply to requirements concerning communication channels on short notice in an inadequate manner or not at all.
Does one or more of these points reflect your own situation? In this case, we've got good news for you. Since the solution is very easy: the combination of PIM and ERP.
Differences which Perfectly Complement Each Other: Distinguishing ERP Data from Product Data
Let's first have a look at the corporate tasks the ERP must take care of. In general, the core tasks of an ERP system encompass the planning, controlling, and administration of personnel and resources such as capital, operating supplies, and materials. In relation to product information, the tasks which can be derived cover areas of function like materials logistics, production, purchases from suppliers, marketing, and sales. Here, the first intersection between ERP and PIM becomes explicit in the concrete form of Master Data Management and Product Information Management.
An ERP must be 100 percent operative and available around the clock. To always guarantee this availability, the ERP is kept as light as possible. Data is stored in flat hierarchies and limited to a specific scope of product information.
In a PIM system, in turn, the focus lies on managing product information. This includes data records such as descriptions, dimensions, colors, and technical properties, but also higher-order information for Marketing like texts or media assets compiled for datasheets, images, and videos. Most of the time, such information is accumulated step by step throughout the product's lifecycle. Here, the name of the game is the interplay of the systems. The refinement of product data is, finally, also carried out in PIM – ideally, you have well-defined roles, standards, and guidelines set up in your PIM system which eventually lead to the desired data quality. The last step is to supply the respective target channel or context with the right information.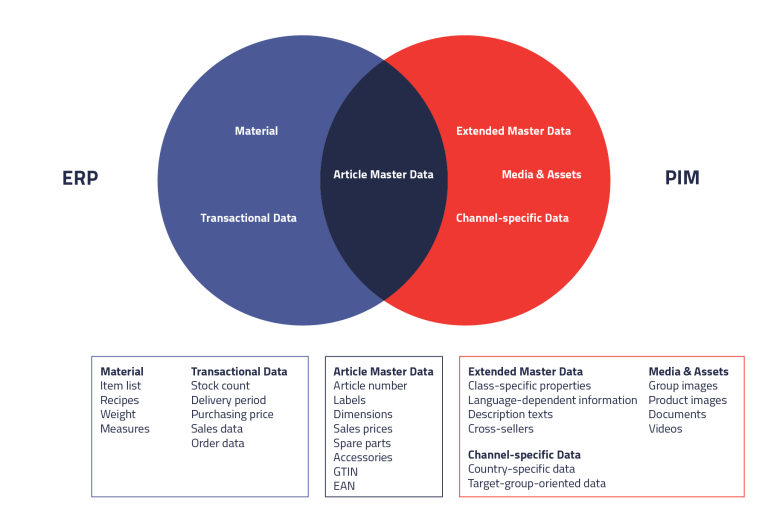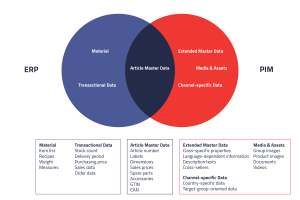 The above figure makes one thing clear: data doesn't equal data. All ERP data is listed in the blue area, while all product data is listed in the red area. This visualizes how both systems serve different use cases and purposes despite their overlaps. To this end, it's all about differentiating and defining clear processes concerning which system has the data sovereignty over what kind of data. This way, you avoid redundancy in your data management.
And if the ERP system reaches its limits?
However, why can the aforementioned requirements only be covered by a PIM system? Isn't ERP sufficient for managing all data? The answer is perfectly obvious: Especially when it comes to the export of channel-specific information out of a flat data structure, you'll hit a limit pretty quickly. A PIM solution provides you with the option to build well-defined data records and data structures by channel, on the basis of which you can maintain target-group-oriented content exactly the way you need it. The ever-evolving requirements of the markets downright force content managers to be always ready to adapt. Such changes can be easily implemented for a single channel without affecting the data foundation – without a PIM, in contrast, the entire publishing process is to be handled and adjusted manually. And this costs a lot of labor.
Additionally, content is to be created and maintained in several languages. Here, too, is where a PIM supports translation management by controlling relevant processes. Whether you can fall back to a PIM's built-in translation functions or you're required to also connect a translation software, that's a subsequent decision to be made.
The PIM System as Your Central Datahub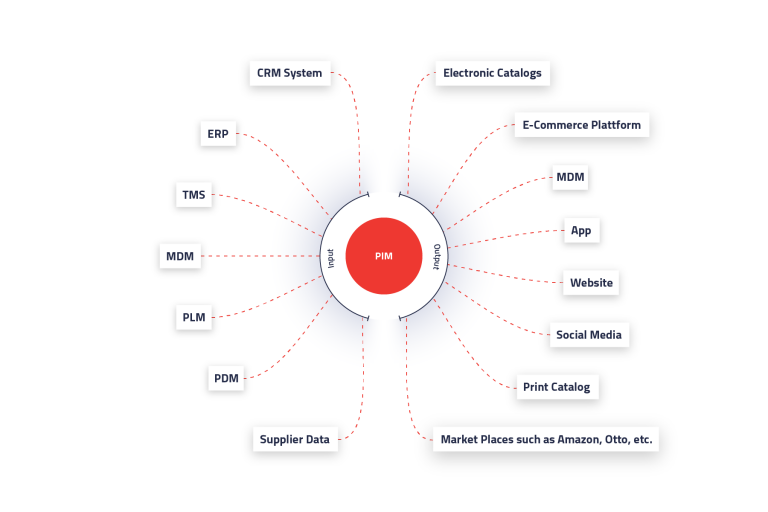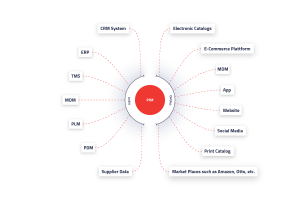 Input Channels of a PIM System:
ERP systems such as SAP, Infor, Sage, Navision, Dynamics
CRM Systems
Supplier Data
Translation Memory System (TMS)
Product Lifecycle Management (PLM)
Product Data Management (PDM)
Master Data Management system (MDM)
Output Channels:
E-Commerce Platforms
Electronic Catalogs such as eClass, ETIM, ARGE
Master Data Management system (MDM)
App
Print Catalog
Social Media
Marketplaces such as Amazon, OTTO
Website
PIM draws its required data from a variety of systems – be it CRM, SAP, or other ERP systems. The data from all input channels is pooled together, centralized, refined, and kept up to date.
And then comes the most exciting point: On the basis of this simple and central data management, you can distribute all information to the right channels at the click of a few buttons. This is how the dream of channel-specific and target-group-oriented data becomes reality in virtually no time.
PIM and ERP – The Best of Both Worlds
The ideal combination of ERP system and PIM system provides you with the optimal solution for your daily challenges.
ERP System:
Enjoys data sovereignty over article data
Manages and supplies technical data
Reserves transaction data
PIM System:
Process-controlling data management and translation
Up-to-date product information across all departments
"Single Source of Truth" for product data
Quick and easy export and publication of specific information to various target channels…

Catalogs
Websites
Shops
Customer-specific platforms and data supply

Target-group-oriented data can be exported on demand
High, context-sensitive data quality
Minimal effort
Looking for an exchange?
Do you still have questions about PIM as a central datahub? Meet us over a digital cup of coffee for a game of questions and answers.