Marketing
Marketing Trends of 2020 – The Human Being in Focus!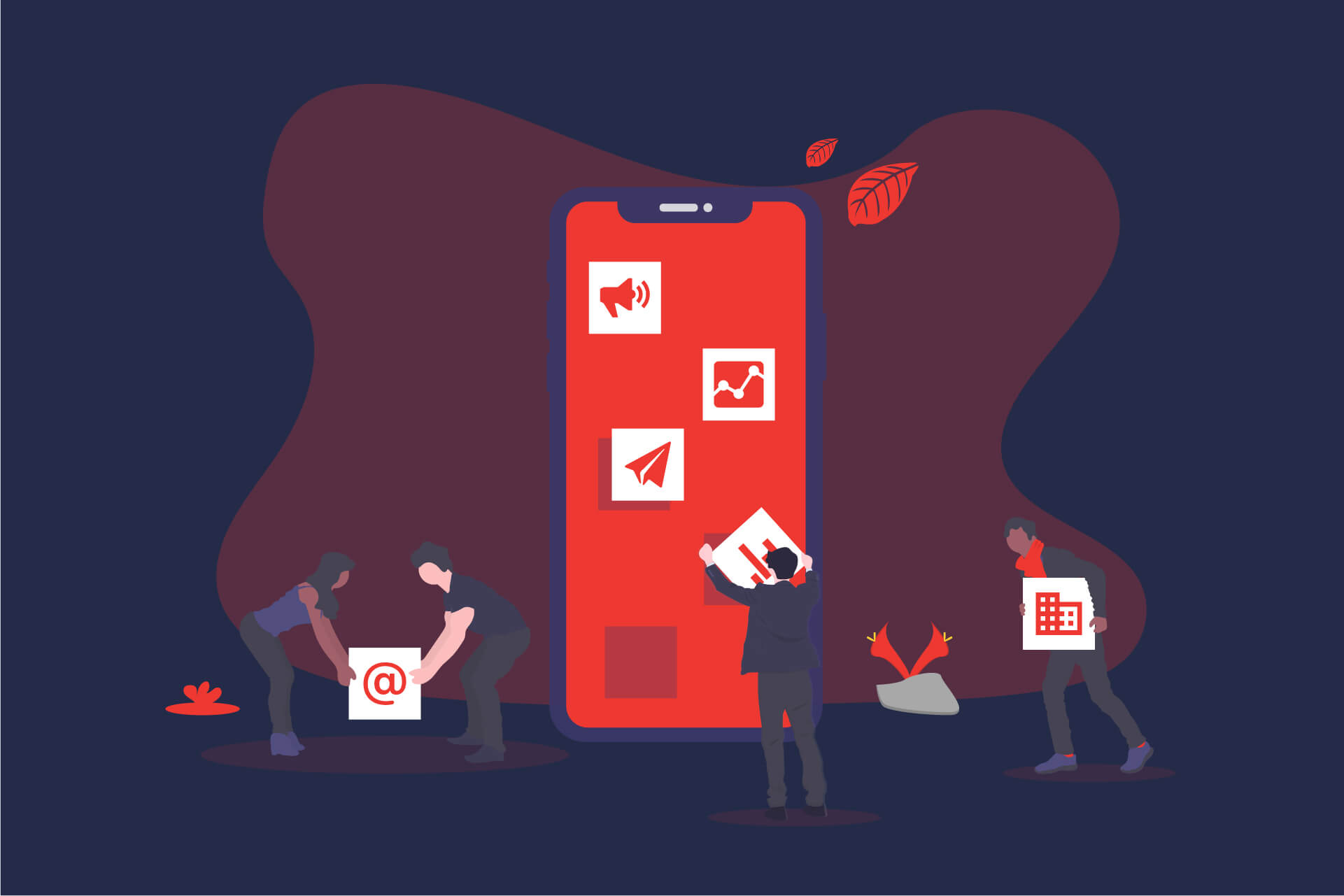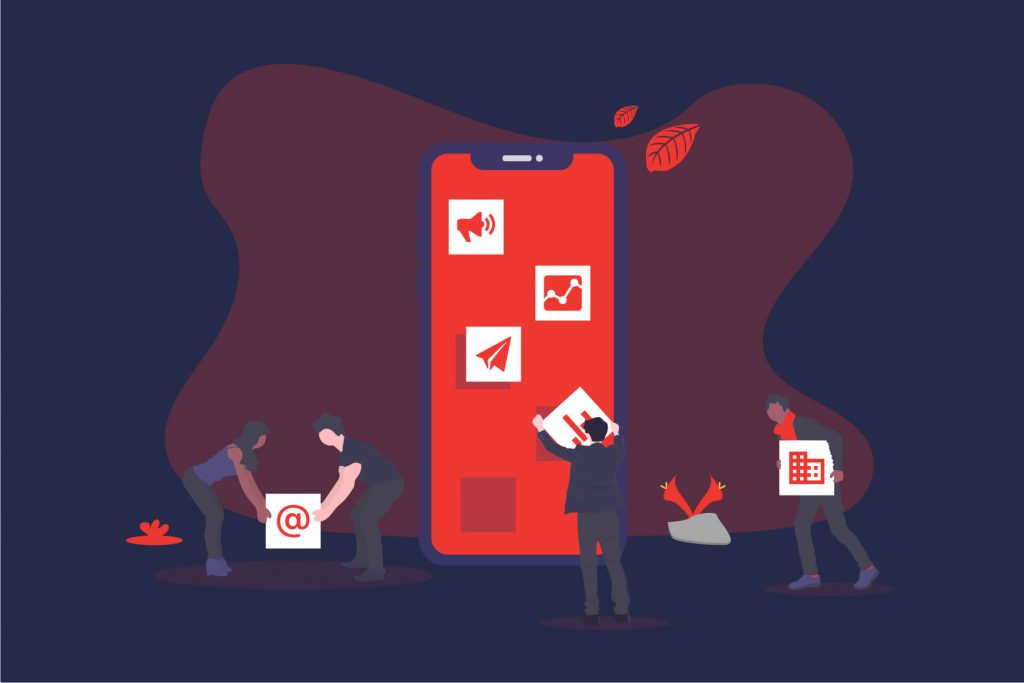 Authentic, Relevant, and Goal-Driven
To the question "The same procedure as last year, Miss Sophie?," she always replies: "The same procedure as every year, James." And, like every year, we from eggheads also ask ourselves once again the question "How do we reach out to our clients?," and "How can we motivate existing clients to continue to make more purchases". Do we give new marketing methods a try or do we default back to our battle-tested ways after all?
Marketing isn't glued to the spot. Instead, it keeps developing continuously. Here, it's important to go with the times so as not to miss out on any up-and-coming trends. This remains true even more so for all shop operators in particular. For one, since it allows them to keep the dialog going between them and their customers. On the other hand, to acquire new customers.
What is essential to a sustainable long-term marketing development? It's fact that the focus shifts more and more towards authenticity — this is also true for the year of 2020. Especially in times like this, where people are already willing to pay for not being interrupted by ads. Ad blockers make it increasingly more difficult to win customers. More so than ever, it's important to put the human being into the center, to identify and understand her needs.
Meaning, humanness, and authenticity are the driving marketing factors of the future. In particular with regards to digitalization, still standing strong in its triumphal procession.
We Present to You the Top Trends 2020!
Trend 1: Social Commerce
No story, no glory
Customer relations continue to become increasingly more personal in 2020. This is, at the very least, what platforms such as Facebook and Instagram want — since they are integrating more and more features for this very purpose. On the basis of this, companies can foster their relationship to their customers as budgets for social media marketing grow from year to year.
Snapchat
Snapchat implemented the "Stories" function 6 years ago. Snapchat Stories are temporary images or video clips which disappear after 24 hours. This attracts not only younger audiences who use these so-called #snaps as their playground. Companies also profited from this feature. Much more recently, Mark Zuckerberg has adopted this very idea, implementing it into both Facebook and Instagram. For a good reason: More than 500 million users utilize the Story function in Facebook and Instagram. This translates into higher subscription counts and brand presence, granted that the company can produce highly original and authentic Stories. This is, in fact, achievable with little resources. What do you need? A smartphone, internet connection, and an idea. IT know-how? Not necessarily! Global live streaming is a user-friendly service accessible to anybody. So, let's get our storyboards ready, shall we?
YouTube
Anybody with 10.000 subscribers or more can use the previously mentioned function and upload Stories on YouTube with a much longer life cycle.
Google
Since 2018, internet search is 'mobile first.' This philosophy coupled with the Story trend gives you AMP Stories. Publishers can produce Stories for Google's image search, giving birth to a new format of content.Since August 2019, Google has been going its very own path with its AMP Stories: The focus lies on content and search results. Later, Google's artificial intelligence is also supposed to generated Stories by combining content automatically and presenting them as search results. This is a top-notch way of providing target group oriented content.
Trend 2: Micro-Influencer Marketing
Micro Influencer – Brands are Aiming at Finding Influencers with whom they Share Common Values
2019 has shown without doubt that the trend of so-called Macro Influencers with millions of subscribers has been stagnating. "Heroes" already earn more than necessary to make end's meet with their Influencer activities. They have turned into companies of their own, with their own employees. Where does this leave the credibility? And precisely this is what the trend 2020 is aiming at — betting on Micro and Nano Influencers. Usually, they may lack the outreach of the big players in the Influencer scene, yet they are more credible and reach the target group they want to reach. The employees of companies, so-called brand ambassadors, are also micro influencers. If you bet your money on the right horse with a manageable follower count, you may have found your very own goldmine. Tip: Develop your own brand ambassador concept.
What Happens when Companies Combine Content Marketing with Influencer Marketing and Social Media Marketing?
Up until now, brands and marketers have conceived of Content Marketing, Influencer Marketing, and Social Media Marketing as separate forms of Online Marketing. In reality, however, they make up individual aspects of one and the same Online Marketing process. Here, too, we are diagnosing that this will change substantially throughout the next years. The boarder between B2B and B2C is dissolving more and more. Tip: Conceive of Content Marketing as an all-encompassing process.
Companies create content to increase the social outreach. However, they will also make good use of micro influencers who are authentic. This is because they are the micro influencers which share the same values as the company does. This will become more apparent in 2020. This is gonna be the year of live content! All technical obstacles are out of the way stopping you from customer binding on your channels using creative and motivating live videos. Be it natural live behind-the-scene shoots, entertaining product presentations of new releases or, for example, exciting how-tos, informative B2B webinars, or with actual employees. Live content shows what the company is capable of while providing interesting content.
The sales funnel to Stories is reduced via so-called "Shoppable Posts", by simply eliminating the steps from discovery to purchase.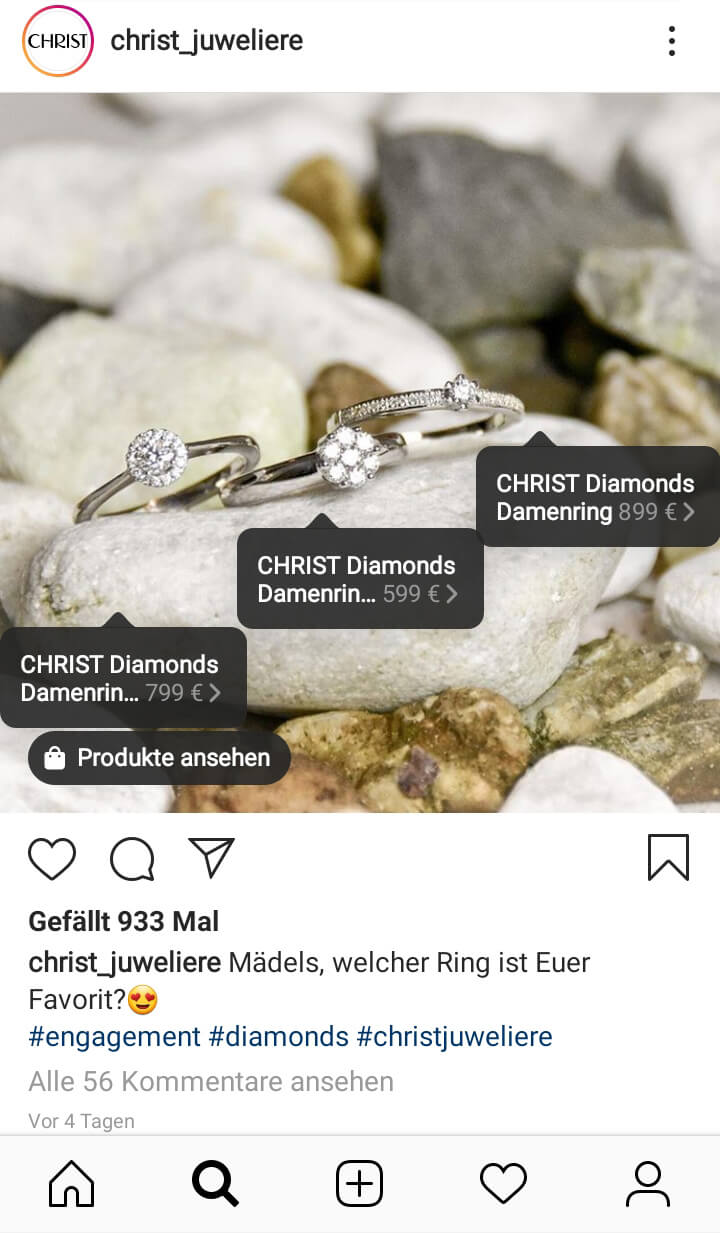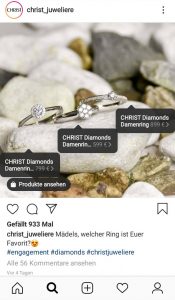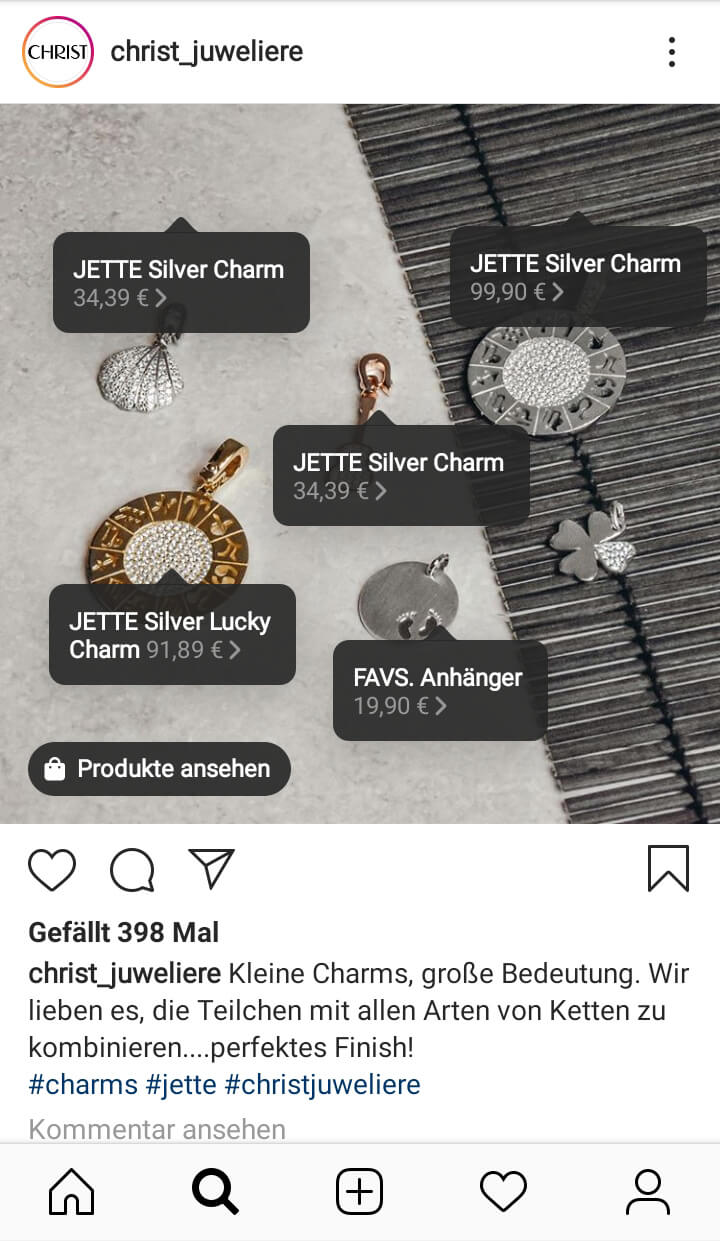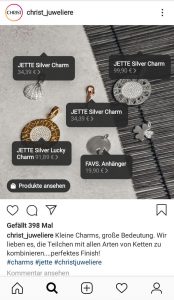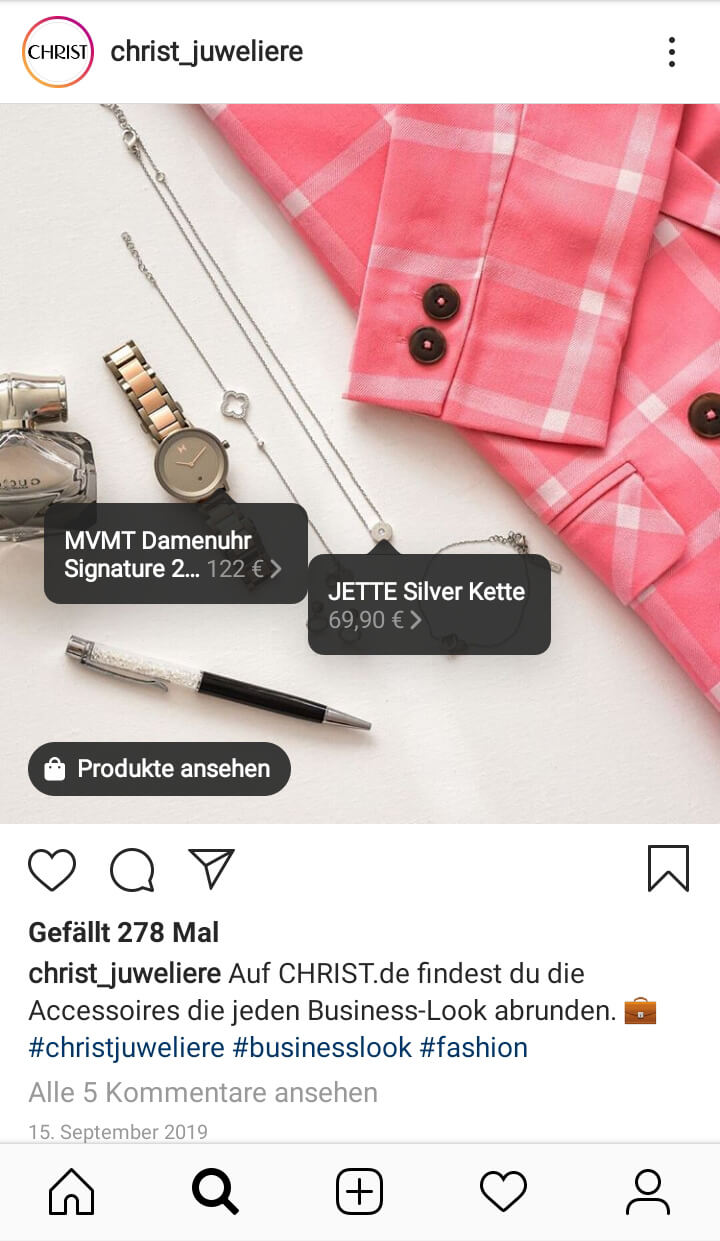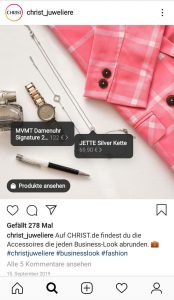 There are some shops, such as Christ Juweliere or Lampenwelt, who utilize this trend via their Facebook and Instagram channels in order to motivate their fans to make purchases. This simple "shopping-to-go experience" smoothly fits into the "shopper's life" and translates into more spontaneous shopping. Shoppable Posts will make their big breakthrough in 2020 so that this trend will establish itself on all channels.
Trend 3: Content Marketing
For many years now, content has been, is and will still be the king in the future. This is nothing new.
Reality, however, looks different. Since Content Marketing, too, has changed substantially over time. To fill the target groups with enthusiasm and make them your fans, making a blogpost once in a month reporting on what's new in the industries will no longer cut it. The magic formula — even in 2020 — is the following: Know your customer's expectations. In the case of e-commerce, in particular, you can use content to motivate your customers to make purchasing decisions. However, this doesn't imply: Being active on all social media platforms, bombarding your customers with daily newsletters, and shooting two new blogposts every day into the unknown. No. Much rather, it's about creating quality content optimized to fit your target group on the very platforms used by them — as well as, and this is the supreme discipline, posting it in a format which your target group can and will consume. Nothing is worse than producing content which never reaches the target group.
Personalizing instead of Generalizing
One and the same e-mail for all customers? Generic e-mail newsletters addressing all customers at the same time will lose in significance in the year of 2020. To communicate the feeling of appreciation, fans (customers) want to be addressed in person. Despite of all the automation and digitization, customers want to build a relationship to the respective company. This only works on the basis of addressing them individually and adjusting the information to their needs.
Trend 4: Video Marketing
In the social media networks, videos are what result in the highest interaction rates. It may be true that 55% of all Facebook posts are shared links, as the analysis of 105 million Facebook posts have shown in 2018. Yet, videos have an interaction rate which is 258 percent higher than link posts. This research by Quintly makes clear what potential the distribution of self-made videos have on social networks.
With the increase in mobile end devices, the number of users consuming videos on them does also increase. Based on a prognosis by eMarketer, there will be 2,33 billion mobile video watchers in 2021. Accordingly, optimizing videos for mobile devices poses a great challenge. Among other things, this does also include preview images (so-called thumbnails) which are readable even on mobile screens.
Another video trend which is also living on in 2020 are description videos of products and services. To provide their users (customers) with something that's worthwhile, they have to convey the offer within a short time window (2 minutes max.) in a simple, emotional, and credible manner. 360-degree videos will accompany us in a great many of situations: For example, they will replace site plans and route descriptions, in particular in in-door settings like airports, museums, shopping centers, or office buildings.
Trend 5: Augmented und Virtual Reality
Augmented and Virtual Reality will continuously leave more and more positive impact, not only in the world of gaming. They will also do so in our everyday life. The sales of both Augmented and Virtual Reality glasses will, according to a prognosis by IDC, skyrocket from 9 million in 2019 to 68.6 million in 2023.
And the preparations for this are to start in 2020: In the future, we will, for example, be able to use Augmented Reality to how this or that piece of furniture may fit into our living room or kitchen prior to its purchase. Consequently, it comes down to analyzing the data requirements in play.
Virtual Reality grows in importance when it comes to the description and presentation of products and processes. This allows for even better User Experience. If this provided right at the point of sale, it can contribute to the customer's awareness and, consequently, support you in your sales procedures.
Trend 6: Voice Search
Technological advances result in continuing changes to the search behavior on the internet. Because of the growing use of mobile end devices for search requests and the growing use of language assistance via Siri, Alexa, Cortana, or Google Assistant, the number of Voice Searches does also grow. Accordingly, Voice Search will become an increasingly important field of Search Engine Optimization.
To be the search result of a voice search, you don't need to be at position 1 of search engine results pages (SERPs) — you'll need position 0. This is the so-called Featured Snippet. For "conventional" searches, this panel appears in between ads and position 1 to answer frequently asked questions in a quick and easy manner. For Voice Searches, the result provided would appear at position 0. This is why it is all the more important to occupy this position; all other positions no longer play any role in searches based on audio input.
How may one reach this position? The most relevant matter is determining the questions your users have about products and services. The most important step to get to position 0 is to answer the question in your website's content in a simple and brief fashion.
Subsequent SEO measures for occupying position 0 and, consequently, securing the competitive edge are:
Geschwindigkeit der Webseiten verbessern
Webseiteninhalte strukturieren
FAQ-Seite erstellen
die mobile Darstellung optimieren
Für lokal bezogene Suchanfragen ist darüber hinaus ein Eintrag bei Google My Business erforderlich. Ebenso wie die Pflege und Korrektheit der Unternehmensinformationen u. a. bei den Öffnungszeiten. Bei lokalen Suchanfragen liegt die Intention des Users häufig darin, das Unternehmen vor Ort zu besuchen, bzw. direkten Kontakt aufzunehmen, was eine entscheidende Bedeutung für die Sichtbarkeit und Richtigkeit der Unternehmensdaten nach sich zieht.
With the increase of Voice Searches, the demand for audio-based features may rise accordingly, since unlike videos, audio replies don't come with any visual components.
Develop a brand ambassador concept.
Conceive of Content Marketing as an all-encompassing process.
Define personas in order to understand your target group even better than you already do.
Trend 7: The Big Data
This is also old news: Data helps! They help you at developing new concepts as well as products. And, the best thing about it: You will also become more creative. Since it is precisely this aspect which constitutes the weak spot of computers processing Big Data. There are countless companies which are literally parasitic on other companies' data. This is because they lack the understanding, infrastructure, or capacities to read and evaluate data.
What does this mean for the business experience in the field of e-commerce? — Regardless whether we are talking B2B or B2C. What it all comes down to is putting to use the possibilities of digital transformation. Use it and stop simply registering your data in Excel tables or other tools; use your data to make important decisions and be creative!
Conclusion
You want to make your brand's name stick in the heads of your customers? Keep on developing your online shop. We from eggheads wish you plenty of success in the implementation of the trends. And, don't forget — the most important foundation of 2020 is: Self-Confidence!
Have an informative talk with one of your eggheads PIM/MDM exports, and learn how to self-confidently export your product data into the various distribution channels.