Product Information Management
PIM and DAM: The Success Factors for Your Business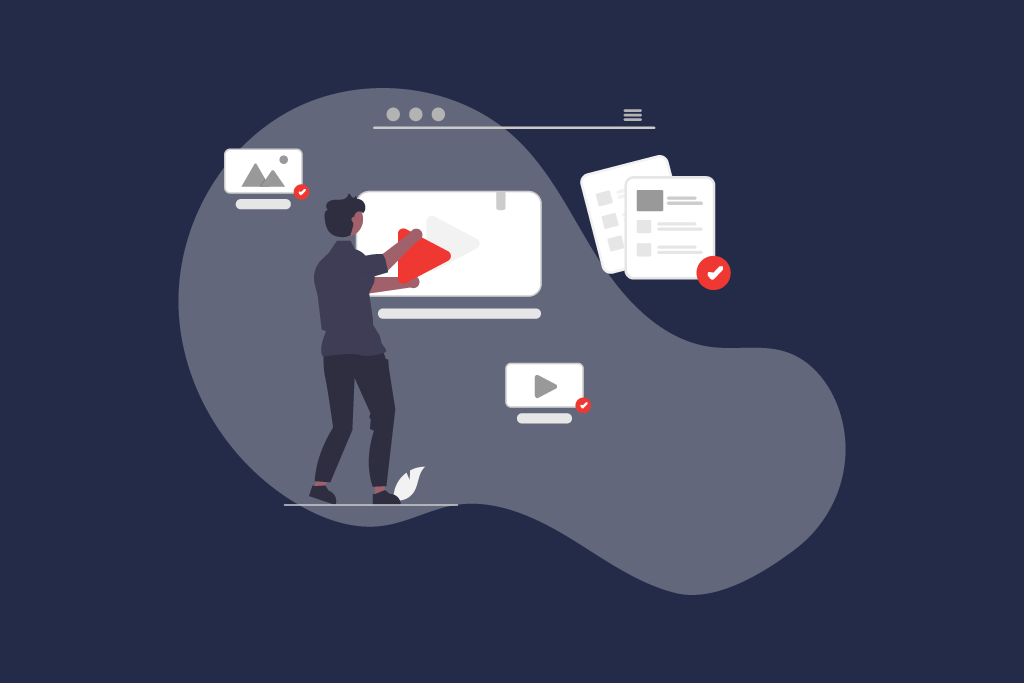 Creating Tailor-Made Purchase Experiences with PIM and DAM
In the age of digital commerce and customer centricity, companies put increasing emphasis on providing their customers with a smooth and personalized purchase experience. Product Information Management (PIM) und Digital Asset Management (DAM) have come to play a decisive role herein. By combining context-sensitive and personalized product information with digital assets, PIM and DAM systems enable companies to fulfill their customers' expectations. Since today's customers are more demanding than ever: They are more informed and can order goods from anywhere at any time. This grants customers the freedom of choice from whom they want to buy their desired product.
E-commerce companies that want to set themselves apart from the competition must design a perfect and pioneering purchase experience. And to this end, they need lots and lots of data: expressive product descriptions, detailed product images, professional product videos, setup manuals, maybe even augmented reality integration, and much, much more. Handling this manually is no longer possible, there is no way around high-performance tools. If you wish to learn more about how PIM and DAM systems can help you in creating groundbreaking purchase experiences, we invite you to keep on reading.
What is DAM?
DAM stands for Digital Asset Management. Its focus is on the efficient maintenance, secure storage, and effective distribution of all sorts of digital content such as images, graphics, videos, audio files, or text modules.
Why are PIM and DAM Indispensable for a Successful Purchase Experience?
According to a survey by KPMG, 57 percent of all surveyed people wish for better information about the product, 42 percent for better product images, and, lastly, 23 percent for more product videos in order to avoid product returns. (Source: Statista, 2023). This clearly demonstrates: high-quality product content is of great importance to consumers. When it is inconsistent, incorrect, or simply unavailable, it will inevitably reflect itself in the product return rate or the product isn't even bought in the first place.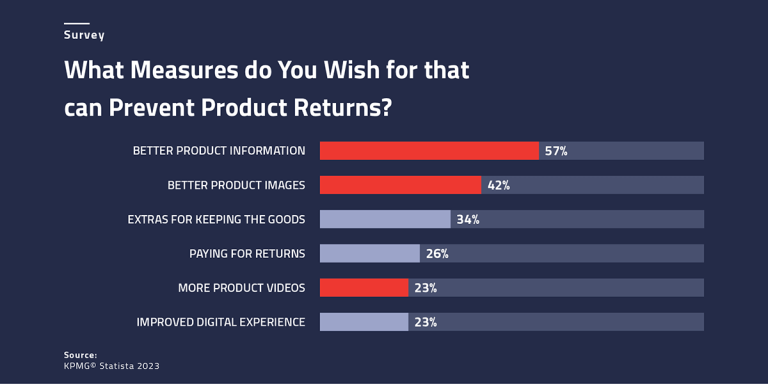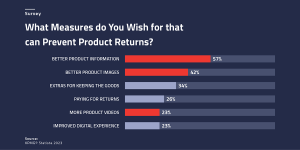 Nowadays, consumers are well-informed and more demanding than ever, which is why they are expecting reliable product content from companies, among other things. By integrating both systems, companies can optimize their business process and make sure that they can provide consistent and complete product information that can solidify the customers' trust and have a positive impact on the purchase decision. This is enabled by pooling together context-sensitive and personalized product information from the PIM system with digital assets from the DAM software.
The data PIM and DAM solutions centralize respectively differs a lot from one another. Accordingly, it's best practice to connect both worlds. This grants you a comprehensive overview of all product-related data on the basis of which you can also easily manage and maintain all information as necessary. With this unbeatable tool combination, you solve one of the biggest operative challenges companies find themselves confronted with: Millions of different product data records are collected, maintained, refined, and distributed only to relevant touchpoints. That alone should already take the point home, doesn't it? Yet, there are much more advantages that can be of great use to your company.
1. Inspire Customers thanks to Consistent Product Content
The integration of both PIM and DAM guarantees that product data is always up to date, consistent, and correct. Images and other assets should always depict the current state of the art. And they should also be consistent across all channels. When purchasing a bike, for example, nothing could be more irritating than the oddity that your own shop has images that deviate from the other e-commerce or web platforms. Assuring consistency establishes the highest degree of trust in your brand. Regardless with which channels your customers interact, they always receive consistent information which will help them in forming well-informed purchase decisions.
2. Increase in Efficiency for Content Creation and Management
Managing product data can be time intensive and complex. Through the use of PIM and DAM, you can optimize the whole process while accomplishing tasks with less effort and in a quicker and more efficient manner. By directly connecting the DAM system to the PIM, images and assets will always be available just in time in your PIM and, with that, in all connected channels. This allows you full access to an extensive library of digital assets on the basis of which you can create target-group-oriented marketing and product presentations. Additionally, this integration facilitates your workflows and makes you more flexible in your response to sudden shifts in the markets.
3. Personalized Experiences that Captivate Customers
The customers of today expect tailor-made experiences that target their individual needs. By bringing PIM and DAM into relation, you can provide personalized content and suggestions which are based on your customers' actual preferences and purchasing behavior. A race bike, for example, requires different marketing texts and images than products catered towards hobby cyclists. Naturally, this comes with some preparation work. Knowing your customer inside out is of utmost importance in this context, after all. There are various methods to this end such as setting up a buyer persona. Feedback data, too, be it from product returns, reviews, or based on purchasing behavior, etc. can be managed in the PIM system so that you can read your customers' wishes from their lips or, much rather, from their purchasing data.
4. Accelerate Your Time to Market and Stay Competitive
In a fast-paced business world, bringing new products to the market is decisive. The combination of both systems enables you to get the optimum out of your processes and shorten the time to market. There is no need to connect two systems which provide data at different times, PIM allows you to distribute everything in a centralized and synchronized manner to relevant channels including assets. With centralized access to all product information and digital assets at the same time, you can speed up the time it takes to make adjustments, update content, and introduce new products. You are agile, you can react quickly, and stay streets ahead of the competition.
5. Boost the Success of Your Omnichannel Strategy
Customers frequent a diverse range of touchpoints in order to interact with companies: social media, online marketplaces, online shops, catalogs, etc. All these interaction options over changes for designing a top-notch customer journey. PIM and DAM systems make it possible for brands to provide product information to various channels. Thanks to built-in omnichannel publishing functions, you can automatically supply just the right product information to different output channels. This way, you create a multichannel or omnichannel at the click of a button.
PIM and DAM: A Strong Duo!
PIM systems play an important role in the smooth purchase experiences and optimized omnichannel strategy. A PIM system usually contains DAM functions but it can also interact with separate DAM systems such as Tessa, Canto, and others.
With high-performance systems such as PIM and DAM, companies can optimize their sales and marketing processes across various channels and platforms. In this manner, they can offer a consistent and personalized customer journey which, in turn, results in better customer retention and higher sales.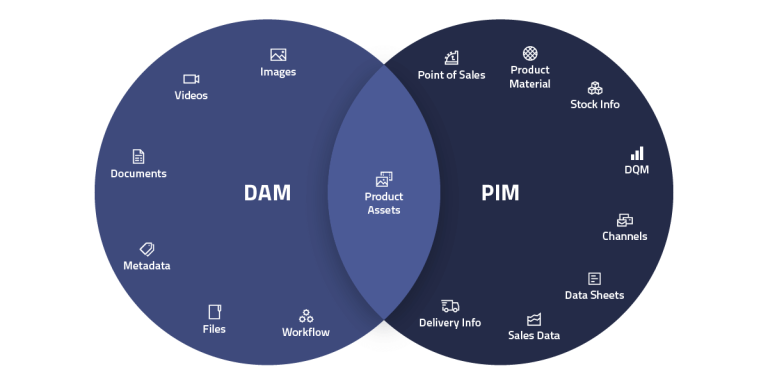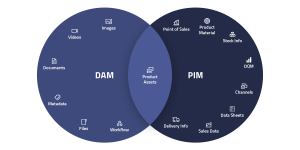 In case you, too, want to improve your customers' sales experience and optimize your omnichannel strategy, then the integration of PIM and DAM is the right step.
You want to know how you can master your challenges with a PIM solution?
We're always happy to show you how in a personal demo show. Our experts guide you through the highlight functions of our software and tell you how you can utilize our PIM solution with built-in DAM functions to elevate your business processes to the next level – digital, free, and without any commitments on your end. Secure your demo tour now!