Digitalization
Webinar Fatique?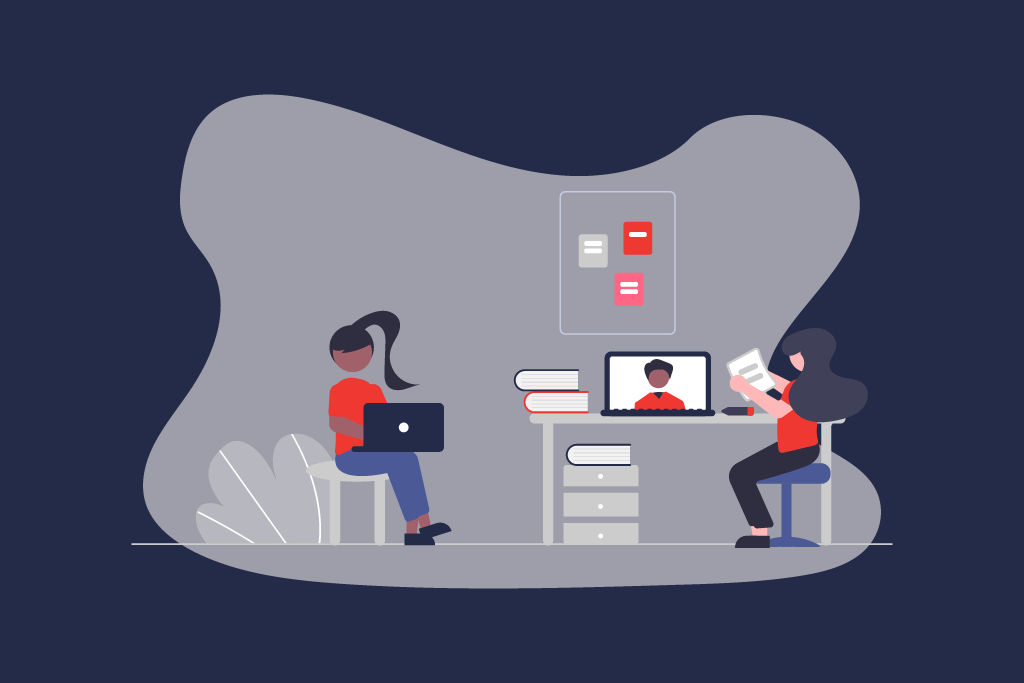 These Tips will Help You get the Best out of any Online Event
Online conferences are a dime a dozen – for both, marketing experts and product managers. Of course, each and every online conference serves its purpose and has its right to exist. This is because our life is growing increasingly more digital – corona is just one more reason. With ever-increasing digitalization of our professional and private life, not only the way we work has changed but also the manner in which we satisfy our thirst for knowledge: everything's online. This may be exhausting at times, but it also comes with a great many advantages. Despite of the pandemic, we enjoy many possibilities to grow as a person thanks to online conferences by exchanging information with others, and participate in shaping the world of e-commerce – soon to be m-commerce.
Precisely for this reason, productiva has been called into life by us in early 2021. On June 17th and November 25th 2021, all product managers, marketing experts, e-commerce managers, and even CEOs from any industry and business size are once more invited to join and gain a knowledge boost – completely for free. You too can be part of it, sign up for productiva Digital right now.
"Before the Event is After the Event"
Since our time and resources are limited after all, investing your time in a meaningful manner and getting the most out of it should not merely be your icing-on-the-cake but your bread-and-butter. To make online events as enjoyable as possible, we've compiled some useful tips for you below.
1. Clear Agenda:
Study the agenda of the online event carefully and ask yourself what is personally important to you, what will make you grow further, and what you can dismiss from the agenda. Also take into consideration whether there are coworkers or acquaintances who you may want to invite based on shared interest in specific topics.
2. Prioritize Time:
Listening to a lecture while working on an important project at the same time? Think twice! This would only be semi-productive. Always make sure to block the time necessary for an exciting presentation. Hello, focus time – let's get down to business!
3. No Distractions:
Barking dogs, noisy children's toys, an e-mail here, a Teams chat there, and let's also answer the call that has just gotten in while we're at it. Distractions are everywhere and anywhere, and we've gotten used to overcoming them. We're real home office heroes, after all. Yet, despite all of that: For the online event, you should withdraw to your most favorite concentration-and-relaxation spot (e.g. your workroom, balcony, garden, …) and put all your other devices like smartphone and e-mail notifier into sleep mode. Between ourselves: The tableware you used for your lunch break isn't going anywhere and the clothes you hung up to dry are probably better off drying for another hour or two anyway.
4. Anticipation of Fellow Participants:
Strangers become friends, the other becomes your brother! Okay, things may not move this fast at an online event. Yet, by browsing event groups on LinkedIn and other business networking sites like XING, you can get a quick overview of who will participate. This will allow you to forge interesting business contacts and also use the conference as a door opener. Socializing despite of social distancing – has there ever been more opportunities for sparking conversations?
5. Actively Contribute to the Event:
Focus on the screen. You'll get the most out of the conference if you actively participate and contribute. Listen and ask individual questions during the session. You should take full advantage of the opportunity to discuss questions with renounced experts. Only here you'll find that valuable expertise is handed to you on a silver platter.
6. Socializing & Business Networking:
Online events are perfect for building up or expanding your own network. Here, you can have a get-together with exciting new contacts from your industry or fields of interest. Use the chance to get involved. Even small gestures like a post or a comment here or there is enough to interact with fellow participants and share positive impressions related to event topics.
By the way: All participants of the productiva Community can network and socialize on LinkedIn. Not a member yet? Hurry up then: here you can find the LinkedIn productiva Group!
The eggheads Online Event Etiquette
You're now well-equipped with all you need to know in order to get the best out of any online event and maximize your own return on time investment. Yet, there's more to it than that. After all, you also want to leave a good impression. To this end, we've complied a list of related tips for you.
1. Order is Key:
Naturally, what's going on in your home is nobody's business but yours. Yet, papers and data sheets stockpiling, Lego bricks on the ground, and the unfinished breakfast on the table – that's not how to leave a good impression. Ideally, you can set yourself up in a room that is clean and well-exposed to light with a white wall in the background. Alternatively, you may also contact your marketing crew for a CI background which you can use in tools such as MS Teams, allowing you to naturally represent your company while participating at the online event.
2. From Pajama Bottoms to Jeans:
Imagine the following scenario: You quickly stand up to plug in your charging cable but the screen cam is on – boom, a faux pas happened and you've put your teddy-bear-patterned pajama pants with baby food strains on display! A timeless classic. As intriguing as the comfy factor may be, you should always make sure to be adequately dressed as if you were to make a public appearance.
3. The Spot is On:
What separates us in today's trying times is a certain physical distance. And it's exactly for this reason why we should always have our camera on during meetings or conferences. It's simply more personal. Or how would you feel giving a presentation while staring at a black box?
4. The Sound is Off:
Funny background noise – from "Honey, I've collected the mail for you", through "Mom, wee-wee", to a loud "Woof, woof". By now, we've heard them all. Even though we've grown used to it nowadays, however, it's an impolite interruption to the speaker and, sadly, also a bit embarrassing if you're the culprit. Accordingly, make sure to switch off the sound input unless it's your turn to talk.
Q&A Session:
The Q&A round is a good opportunity to place questions and drill deeper into exciting topics. Here, it's imperative to talk clearly, put on your best smile for the camera, and let others finish their sentences. This may appear trivial, maybe even banal, but it's best practice to recollect basic etiquette once in a while. Tagging a post-it with a hand-drawn smiley face onto your laptop may also be a useful reminder.
After the Event:
Now you can have a quick breather, take care of anything that would have otherwise distracted you during the online event, and enjoy the new ideas you've gathered. And, before jumping right into the next video call, make sure to get linked with experts from the event at LinkedIn.
Always keep in mind: Things aren't getting any easier – you're simply getting better!
Concludingly, some facts about productiva Digital by eggheads #prode21
When: June 17th and November 25th 2021, starting 10:00
Where: Living room, beach shelter, office, or bathroom – simply join online
Who: All product managers, e-commerce managers, heads of marketing, shop operators, product information managers, Excel sheet editors, and CEOs who want to build depth
Fee: productiva Digital is free for all registered participants
Are you on board? Then, sign up for productiva Digital.