Product Information Management
Departure to the Cloud: SaaS PIM as the Key to Digital Product Data Management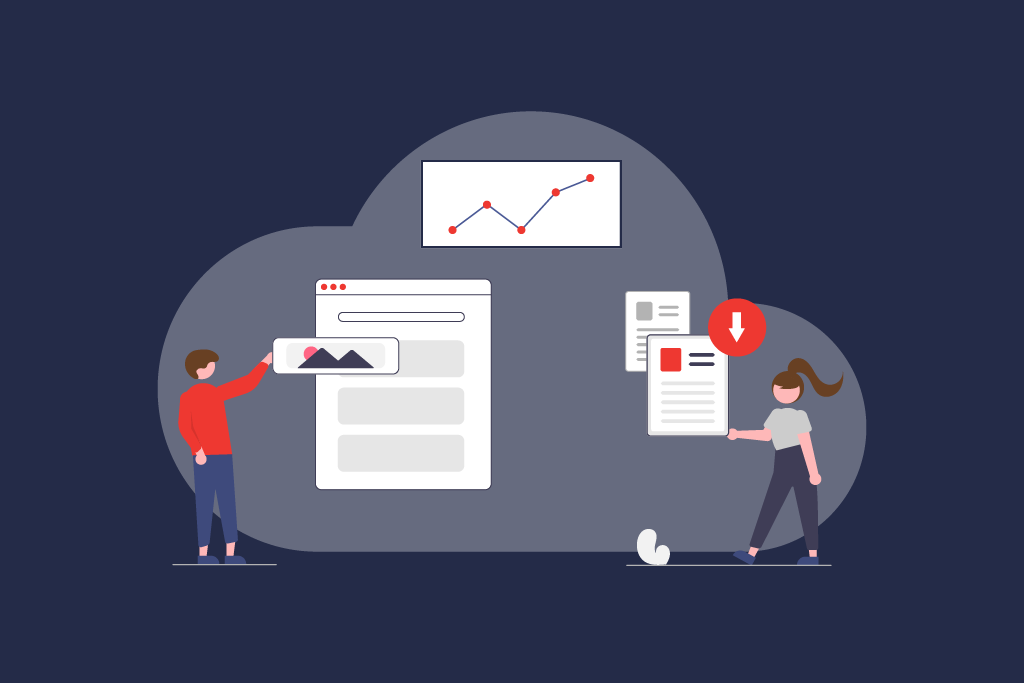 SaaS PIM: Efficient Data Management without High Investment Costs
In today's business world where digital product data is published on a variety of online marketplaces, in regional web shops, and product data feeds, central data management plays a decisive role. And this is where Product Information Management systems (in short PIM) come into play. With this high-performance tool, product data can be maintained and optimized efficiently. Functions such as workflow management facilitate working collaboratively on product data and information in teams, while the product data classification improves the active data exchange both inside the company and with other companies. There are many reasons for investing into a PIM system. Many companies, however, are still reluctant of such IT projects given the related risks together with high license costs which sometimes amount to tens of thousands of euro.
The Good Old World of On-Premise
Traditionally, corporate software such as a PIM or ERP system is purchased in an On-Premise model (while some prefer the plural On-Premises, others abbreviate it as onPrem). In such models, companies usually make a one-time transaction to cover the – on average high – license costs. On top of that, there are annual costs for updates, maintenance, support, as well as the costs for the implementation project. The software is commonly operated within the company's own IT infrastructure which, in turn, necessitates personnel for operation together with operation expenses.
The reason why many companies prefer and opt for the On-Premise model despite high investment costs is a clear advantage which should not be overlooked: With an On-Premise licensing model, the company enjoys, to a great extent, independence from the software developer.
A system that is critical for business such as a PIM, for example, can still be utilized even if development of the software product is discontinued. Even in the case of the software developer going bankrupt, business keeps running unhindered as per usual. That's as far as theory is concerned. In practice, however, neither this self-sufficient system operation nor protection mechanisms such as Source Code Escrow (¹) can provide a hundred-percent error-proof safety net against system disruptions.
Even with access to the source code of third-party software, taking the further development of the software into your own hands is nigh impossible given the enormous effort it would take to acquaint oneself with the technologies. In such a scenario, companies ought to look for an alternative solution as quickly as possible. Running things on your own is only an interim solution.
(¹) Source Code Escrow is a specific kind of software protection solution developed for saving the source code of critical software applications and granting access to it based on conditions specified in the software contract. This comes into effect should the software developer no longer be able to maintain the software on their own.
SaaS Incoming: The Low-Risk Alternative to On-Premise
"Software as a Service," also known as SaaS, enjoys increasing popularity as an alternative licensing and operation model which makes full use of the benefits of today's digital world. The SaaS model sets itself apart from On-Premise with the following five features:
1. Software Operation
The most essential difference lies in the operation model. In the case of a SaaS solution, the system is usually not operated by the company which wants to use it but by the software developer or one of their partners. In this case, people speak of a "cloud-based operation" or simply "Cloud." This alleviates the need to provide IT infrastructure, keep hardware up to date, install the software, as well as monitoring operation and backups on the customer's side.
2. Costs
In the case of a Software-as-a-Service model, the initial investment can be kept low. Instead of a high one-time purchase, periodic payments are made for the usage of the SaaS solution. This is because so-called SaaS vendors do not "sell" their software and, instead, demand a regular user fee (so-called "subscription-based pricing"). This encompasses license usage, operation, maintenance, and support.
3. Updates
When it comes to Software-as-a-Service solutions, the provider has the responsibility to carry out updates, meaning the company doesn't need to worry about regular maintenance. Such updates are provided automatically and without users experiencing any system disruption. Often times, new functions can be implemented more quickly in the Cloud since this also takes care of the distribution and roll-out process to customers. What is important, however, is that, in this model, such updates are usually mandatory and not a choice left up to the company.
4. Service
SaaS vendors strive to provide their customers with a comprehensive service package which provides optimal support in mastering all business-related challenges. Especially when it comes to a PIM system, a first-class service is crucial. Only in this way does the customer not only receive a high-performance system but also makes sure that they can make optimal use of the PIM system in order to accomplish an efficient and digital Product Data Management, better data quality, and smooth collaboration which also carries over into all sales and distribution channels.
5. Scalability
Especially for the e-commerce market, where starting small and growing and expanding in a step-by-step manner is the norm, a fully scalable PIM system offers a great benefit. A cloud-based PIM solution enables a smooth scaling without the need to invest into more servers or software. Cloud PIM solutions can easily be adjusted to the growing business requirements via upgrades without forcing the company to acquire additional server capacities or hiring more IT experts.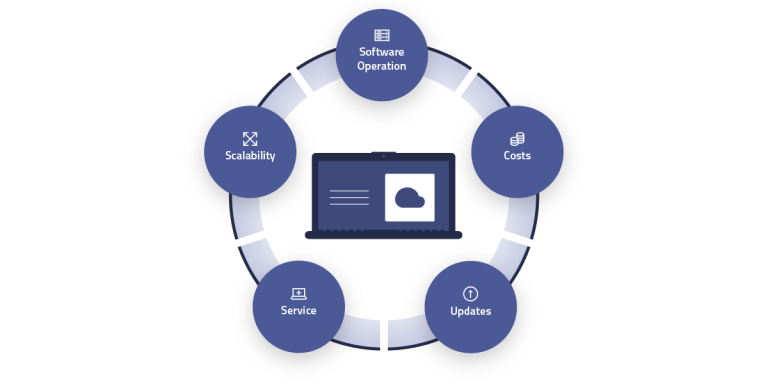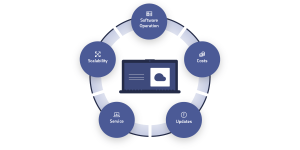 SaaS PIM: Flexible and Efficient Product Data Management in the Cloud
In summary, it can be said that a SaaS offer shines in comparison to On-Premise solutions when it comes to investment risks. The necessity to purchase expensive one-time licenses, build up an appropriate IT infrastructure, and implement the software does only apply to On-Premise but not a SaaS model. Companies that decide to opt for a PIM solution in the Cloud can get started directly. The investment risk, then, depends on the minimum contract duration. Some vendors, in turn, allow for you to terminate the contract by the end of the next month so that the decision can be easily revoked in case of customer dissatisfaction. This flexibility reduces the risk and grants companies the possibility to re-adjust their strategy. On the other hand, the On-Premise model has the great benefit that the company remains independent from the software developer. This, however, didn't put a stop to the growing popularity of Cloud solutions.
Cloud-Native PIM: A Smart Decision for Your Company
With the ever-increasing demand for SaaS and Cloud software products, many developers of PIM systems today do also offer their products on the basis of Software-as-a-Service or Cloud solutions. At first glance, this leads to a great selection of PIM systems in this software category. When it comes to choosing the right software, however, caution is required since many such systems were originally developed as an On-Premise solution and were then migrated over to the Cloud after the fact. Such software solutions do, by design, not draw from the full potential of the Cloud. This may manifest itself in performance or scalability problems as well as higher operation costs which transfer from the provider over to the customer. It's advisable to put this aspect into consideration in your PIM selection process.
In order to find the best possible solution, companies should watch out for PIM systems that are developed as cloud-native software. Such systems do not only offer sustainability for the future but also optimal use of all benefits of the Cloud. With cloud-native, companies can optimize their product data in an efficient manner and further boost their business growth.
You want to know more about the possibilities of a cloud-based PIM solution?
How about checking out the functions of eggheads Suite and finding out how you can use our PIM solution to elevate your company to the next level!